This article contains advice on how to manually create and download the standard Shopify Order File in order to import Shopify orders into Tradebox. The creation and publication of this file can be done automatically through the 3rd party Data Export App at a small monthly cost.
Tradebox imports orders from Shopify using the standard Shopify Order export file. This needs to be manually generated on Shopify and then copied into the local IN folder on the user's PC. The following article provides instructions on how to generate the file:
In the Shopify admin panel select Orders
Then select the Export button at the top of the screen
You will be presented with the following screen: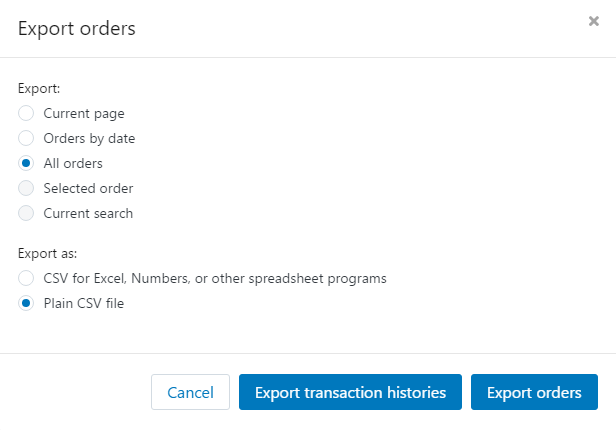 Select which orders you wish to include in the Order File
Choose to export the file as a Plain CSV file
Then choose Export Orders
You will receive an on screen notification displaying "your Export will be delivered by email to youremail@yourdomain.com"
Check your Inbox and in the Shopify email you will see a download link for orders_export.csv.
Click on this and save the file into your local IN folder
Once the order export file is in the IN folder select download in Tradebox to import the orders in the file. Tradebox will only import orders in the file that do NOT already exist in the Tradebox database.