Where the sales channel in Tradebox Finance Manager is set to raise customer receipts, the Payment Mapping screen gives several options for the type of reference to use on the receipt transaction in Sage Accounts (the SR or SA).
There is a known conflict where the payment reference in Payment Mapping within the sales channel is set to use the Sage Invoice/Order Number and the user also has ticked the Use Sage Numbering Methodology option. This manifests as a payment reference of 0 on the Sage invoice or sales order, as below.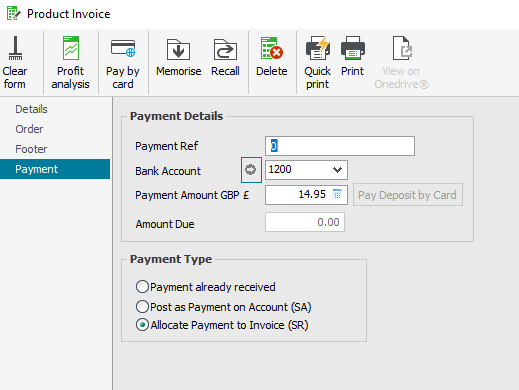 To resolve the conflict, if you wish to use the Sage Invoice/Order Number as your payment reference, ensure that Use Sage Numbering Methodology is unticked. This option is in Settings under the Configuration header, in the Sage Field Mapping tab.