Setting Up the Amazon Credentials
To integrate Tradebox with Amazon users need to provide the following Amazon Marketplace Web Services (MWS) credentials:
Seller ID
Marketplace ID
MWS Authorisation Token
These credentials are now generated in the User Permissions section of the Amazon Seller Settings page. A new email confirmation process also needs to be completed to activated the Amazon credentials. This article explains how these credentials are generated.
Only Amazon accounts that are registered as a professional selling plan are eligible to use MWS.
Log into the Amazon Seller Account you wish to integrate with Tradebox and select Settings > User Permissions. If you sell on both European and North American Amazon, you'll need to repeat this process in both versions of Seller Central.

From the Amazon MWS Developer Permissions section select the Authorise a Developer button.

This will take you to the following page:

Select the middle option, "I want to use an application to access my Amazon seller account with MWS". In the Application Name text box, type "Tradebox"

In the Application's Developer Account Number text box, enter our Developer Account Number:
2269-3644-0136 for Europe
8511-8541-5489 for North America

Click the Next button and accept the Amazon MWS License Agreement then click the Next button again.

The next page will display your Seller ID, Marketplace ID and MWS Authorisation Token. You should print these off or save them to your PC for future reference. Copy and paste the credentials from Amazon into Tradebox - they go in the Sales Channel Details page of each Amazon sales channel, in the MWS Connection section. Then choose Save & Close.


Note - if you can't see the Auth Token field in the sales channel details, you're on an old version of Tradebox Finance Manager. Follow these steps to update to the most recent version before continuing.

A confirmation email will be sent to the admin email on the amazon account. This email needs to confirmed before the keys will become enabled.
Note: If you use an Amazon Europe Marketplaces Account then the credentials may or may not be identical for all European connections, including the UK. The confirmation page on step 7 will display the relevant credentials, if it shows a separate marketplace ID per marketplace then you'll need to use each of these in the corresponding sales channels in Tradebox. There's no difference in functionality if Amazon gives you one marketplace ID for all of Europe or individual ones.
If you've previously set Tradebox up as a developer and need to check or refresh the credentials, the Amazon page doesn't give visibility of all 3 existing credentials. In this instance, you should use the option under Current Authorisations to Revoke Access, and then follow the above steps to create new credentials. You will need to replace the credentials in every Amazon sales channel in Tradebox tied to this account.
As of 15/05/2018, the Amazon credentials will need to be renewed annually for Tradebox to continue working. This can be done in the Amazon user permissions page, where it will display the expiry date for the developer authorisation and give an option to renew.
Automatically Requesting Reports in Tradebox
If you're setting Amazon channels up to automatically request reports for the first time in Tradebox Finance Manager, you should now close and reopen Tradebox. When it reopens, a secondary application will also launch: the Tradebox Amazon Download Scheduler.
This sits in your System Tray in Windows and should be open any time the main Tradebox program is open. If you close it by accident, close and reopen Tradebox to get the Scheduler to reopen.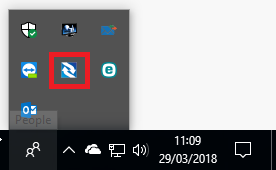 The Scheduler's sole purpose is to access your Amazon account and request Order Reports. When Amazon makes a report ready, the Scheduler will download this and place it in the Input folder for that Amazon sales channel. It is hard coded to always request a 7 day report, and by default it will do this every 40 minutes.
If you're running this for the first time and want to run a download now, right-click the scheduler and choose Open Scheduler. Click Process Now. The log in the Scheduler window should update (you may need to scroll down to see the most recent response). If it says the request was successful, check the Input folder, you should see a report and can then run a download within Tradebox (by clicking Download under the Operations menu). Whenever you're done working in the Scheduler, always click Hide rather than Close, or no further reports will be requested.
For help troubleshooting the scheduler if it returns error messages, click here.
If you've enabled MWS and automatic report requests to resolve a problem with manual report requests, the first report the scheduler downloads may be the most recent manual request. Wait a 2 minutes, then reopen the scheduler and click Process Now again to get the first automatic report.