This article is for our legacy software Tradebox Finance Manager. If you're using Tradebox One, click here.
A common query for Tradebox users is how to manipulate the address fields of orders and deal with any discrepancies between the address as seen on the marketplace versus the address seen on the Sage invoice.
These preferences are controlled in Configuration > Settings, in the Sage Field Mapping tab.
Here you can see the Billing Address settings (Delivery Address settings have the same options available). On the left you can see the fields Tradebox has read from your marketplace orders, and on the right you can control which Sage field this will correspond to.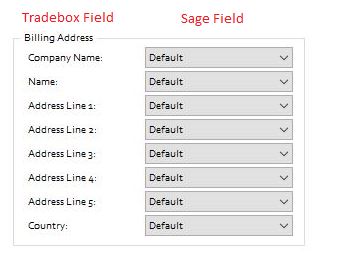 You can see that Tradebox is tracking 8 address fields from your marketplace. This can lead to discrepancies as Sage only holds 6 address fields per invoice; the most common example is if we take a contact name and a company name, by default Tradebox will only pass through the individual's name to Sage.
Below you can see an invoice created with default settings, Tradebox is passing through Name as well as Address Lines 1-5, and is withholding Company Name and Country.
Note - Country will always be populated on shipping and billing address for non-UK orders, it's automatically amalgamated onto the last address line.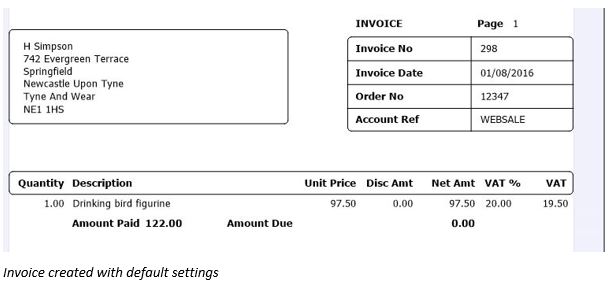 We can alter this by amending the settings within Tradebox. As Tradebox holds more fields than Sage can use, we'd need to choose which fields we don't want to bring across. In our example, we want the contact name and the company name, so we'll choose not to bring across one of the address lines. Best practice for this is normally to forego line 2 or 4 (county) as couriers would generally not have issues finding an address so long as lines 1, 3 (town) and 5 (postcode) are present.
Below you can see an example of the settings screen not using line 2 and the equivalent invoice:

And an example of not using line 4, again with equivalent invoice: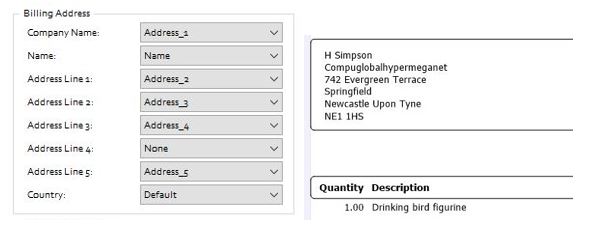 If needed, you can always to use different fields in different places for the billing and delivery sections of the Sage invoice. Of course, if all we wanted was company name to replace the individual's name, we could do that by simply mapping Company Name to Name, and mapping Name to None, leaving the other settings as default. This would give us the company name followed by 5 address lines as Sage uses the address fields in order:
Name, Address_1, Address_2, Address_3, Address_4, Address_5