Most online platforms that Tradebox integrate with allow the software to map the Tradebox SKU to the online Marketplace SKU for the purposes of matching corresponding products together and enabling stock levels to be amended.
The following channels have an additional Listing ID or Product ID that Tradebox needs to obtain to allow this function to happen successfully:
eBay (Listing ID)
Shopify (Product ID)
Bigcommerce (Product ID)
WooCommerce (Product ID)
This additional product identifier is stored against the existing product record/product mappings in Tradebox and needs to be imported from the above channels, as follows:
Using Accounts Software Stock Control
If your stock control is set to get products from accounts, then before adding your listing IDs you will need to first of all need to import your product from Sage or Xero.
Once this has been completed, go to Products and choose the option to Import Products from the Actions drop down menu.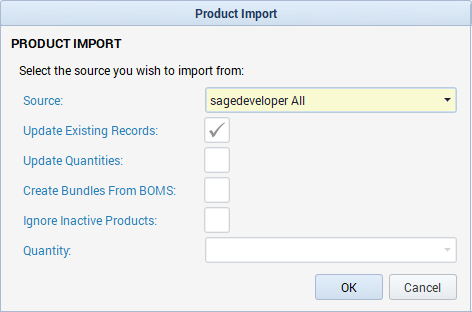 Set the Source field as the channel you want to import your product IDs from. Only channels which require product IDs will be available in the list.
Once the import is complete, the Channel IDs will be added to the product record. You can view them by accessing the product record in the Products module and selecting the Channels tab:

Using Tradebox Stock Control
If your stock control is set to Tradebox then you can download your products directly from the sales channel into Tradebox, which will automatically store the product ID. The menu can be accessed from the Products screen and then select Import Products from the Actions drop down menu.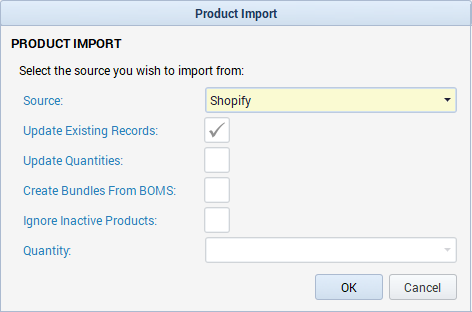 Choose the relevant channel from the Source drop down list. If you've already imported your products from another source, select the Update Existing Records box. This will add the Product ID to your existing records. If you have no product records set up in Tradebox, the Product ID will be added regardless of whether you tick the box.
You can also tick the Update Quantities box to update the stock levels in Tradebox to match what's on the website, if the levels in Tradebox have not been populated yet or are incorrect.