Message Centre
In June 2018 we revamped the message centre in Tradebox One. Going forward you'll see the Message Centre automatically on opening Tradebox whenever we have anything important to communicate. You'll only get this when there's a new message, the next time you open Tradebox you'll see the channel list (or your normal home screen - whatever you've got set in Configuration > Preferences > Home Screen). Click the Dismiss button in the lower right to close the Message Centre.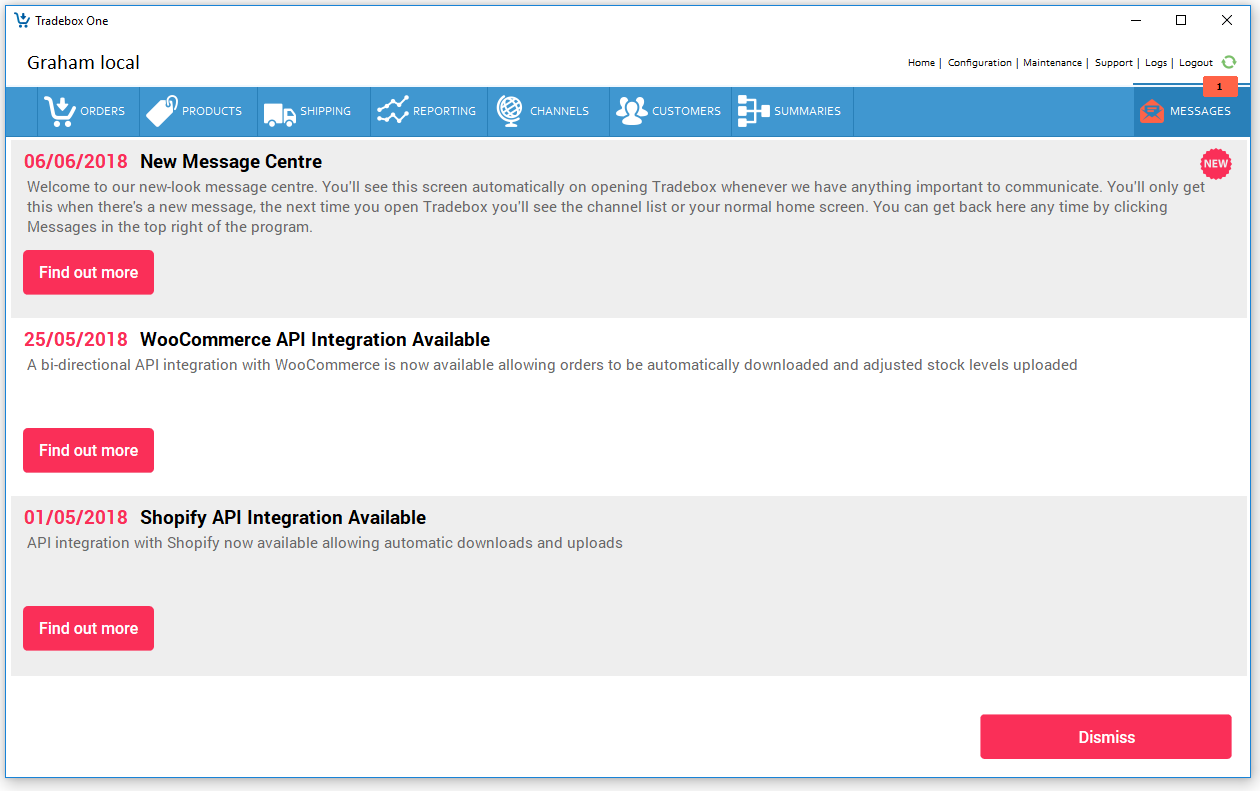 You can get back to the Message Centre at any time by clicking Messages in the top right of the program.
If you're still using Tradebox Finance Manager, click Messages under the Business header in the top left of the program to see any messages relevant to that program.
Software Updates
We release a new build of Tradebox One every 2-3 weeks or so containing bug fixes, improvements and new features. Changes are always detailed on our What's New? page. If you want to get an email notification whenever we release a new build, use the blue Follow button to the top right of that screen.
New builds of our older software Tradebox Finance Manager are less frequent and are mainly compatibility patches for new versions of Sage Accounts or to account for any major changes on the online marketplaces. See the What's New? page for Finance Manager for details.
Operational Contact
As a customer and user of the software there will be times when Tradebox will need to contact you to discuss your account and billing, or changes to or issues with our software and/or 3rd party platforms we integrate with. As a customer and user of the software we have a contract with you that makes this contact allowable under the GDPR. We will not contact you for promotional purposes, such as newsletters or informing you about discounts or partner promotions, unless you have expressly given us permission to do so.
If we become aware of an issue that has potential to affect your use of our software, we'll get in touch by email. These will also be added to the Message Centre.
When your licence is due for renewal, we'll get in touch by phone and email to discuss this.
Our GDPR policy and associated FAQs are available here.
Marketing Contact
We only send out marketing newsletters to people who have opted in to this contact. Our marketing contains information about features in our existing software, new functions we're adding and general tips for using Tradebox to manage your online orders.
If you'd like to opt in to marketing contact, click here.
Updating Your Details
If you've changed your company name or address, or wish to update details like the contact name, phone number or email address we have on record for you, simply get in touch and let us know.
Social Media
Lastly, if you're looking for all the news, tips and tricks we run across from the wider e-commerce world then follow us on your social network of choice.