If you are running stock control from either Tradebox or your accounts package, Tradebox requires your product records to be set up within its own product list. If you're using Sage stock control, these must be imported from Sage. If your stock control is set to Tradebox but you have Sage accounts, importing from Sage is one of a number of options.
Note - the product import from Sage can take some time. Many of our users have large product lists; we've timed an import of 1,000 product records from local Sage data at between 2 and 20 minutes on two different PC's of different spec. This import can be completed at any time, but will need to be completed before Tradebox One can post any orders to Sage.
Before you start, you should make sure that you have configured Sage for use with Tradebox.
From within the Products screen, click on the Actions drop down and then select Import Products.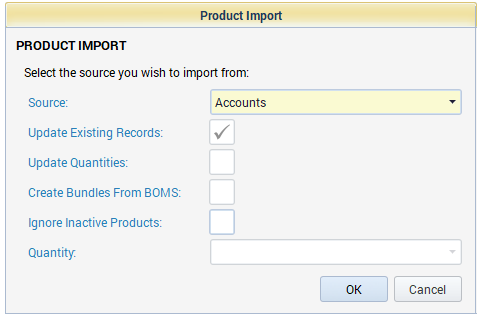 From the Source drop down menu choose Accounts. If some or all of your product records are already set up in Tradebox, you can tick the box for Update Existing Records. This will bring across any changes that have been made to existing product records in Sage.
The Update Quantities option is only available if you are set to Tradebox stock control. This will pull in either the Free Stock Level or the Quantity in Stock from Sage. You can choose which from the Quantity drop down further down.
Create Bundles from BOMS is another setting which is only available if you are using Tradebox stock control. If you have BOM products in Sage, Tradebox will create those as the equivalent product type, Bundles, in its own database.
Ignore Inactive Products can be set if you have inactive products in Sage that you don't want to be imported into Tradebox.
Once you've made your selections, click OK to proceed to the next screen.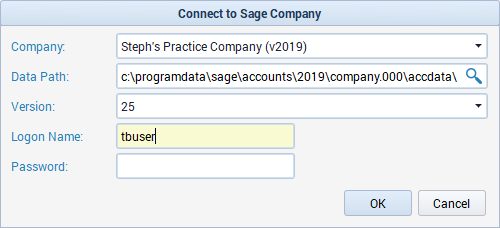 You'll then be asked to log into Sage. Make sure you have the correct company selected from the drop down list at the top. Provide Tradebox with a valid logon name for this Sage company; we suggest using TBUSER, which you'll have previously set up.
When you're ready to start importing, click OK. This part of the process can take some time, but it's fine to leave it running unattended. Tradebox will pop up a message once it's completed.
Tradebox will automatically create mappings for each product it imports from Sage. These presume that your online SKUs are identical to your Sage stock codes. If that's not the case, your orders will go into query on download and need to be mapped. Alternatively, if you want to get all your mappings set up in bulk, you can import your product mappings from a CSV.
If you're planning to use Tradebox to upload stock levels to your marketplaces, there are a few more steps you'll need to take, which are all described here.
Whenever you create new products in Sage, if you have an accounts link set up, Tradebox can automatically import them into your product list so you don't have to perform this import every time, unless you've created a large number of products in which case it's better to do a full import as described above. To check if you have that setting switched on, go to Configuration > Stock Control. The setting is called Check For New Products in Accounts. That must be selected for Tradebox to pick up new Sage products. Please note, Tradebox can only detect products created using the New button in Sage. Using the Duplicate function does not flag products as newly created in Sage, and they will not be automatically imported.