If you have an eBay channel set up in Tradebox, you can download your eBay fees as a monthly lump sum. If you have not yet moved to eBay Managed Payments, Paypal fees for eBay orders can also be processed through an eBay channel, click here for our guide to those.
Fees download automatically, but will not post to your accounts package until you approve them. Click here for a general overview of fees and related FAQ's.
Setting up to download eBay fees
The option to download eBay fees is found in the Details tab of any eBay sales channel.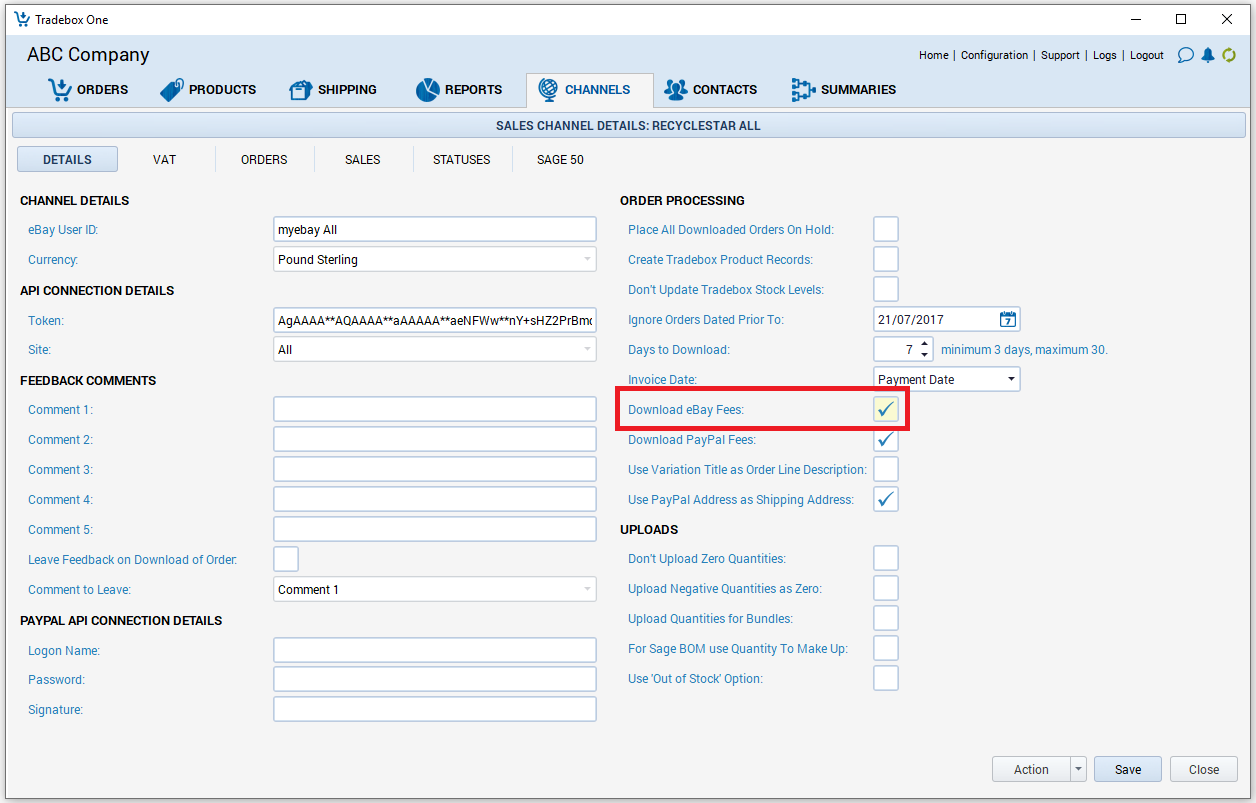 When this option is selected your eBay fees will download monthly, after you've paid eBay. eBay bill sellers calendar-monthly, you'll typically be invoiced towards the middle of the following month and if you've set payment to be taken automatically this will normally be marked as paid a day or two after the invoice.
The fees are downloaded only if the channel is also set to download orders; that means the channel must be active and have download enabled. Due to the 30 day limit of eBay's API, it's not possible to download historic fees beyond the most recent month.
If you are posting your eBay fees to an accounts package, you'll also need to choose your posting details.
For Sage, in the Sage 50 > Nominals tab, populate the Marketplace Fees section by choosing a Nominal, a Bank account and a Tax Code to use for the fee transactions. Choosing a Department is optional, the default department will be used if one isn't chosen.
For Xero, first make sure you've created eBay as a Contact in Xero. Then in the Xero > Accounts tab, populate the Marketplace Fees section by choosing a Contact, an Account, a Bank account and a Tax Rate to use for the fee transactions.

Make sure you click Save after making any changes to your fee settings.
To view and post fees
Overview: to post fees to accounts, go to Reports > Ebay Fees. Tick the box for any fee summaries you wish to send to your accounts package and click the To Accounts button.
Once you've set up an eBay channel to download fees, they'll come down automatically when the order download runs. This means your sales channel needs to be Active and the data service needs to run at least one cycle after you enable fee download.
Once some fees have been downloaded, go to the Reports screen and ebay Fees will appear as an option in the dropdown list.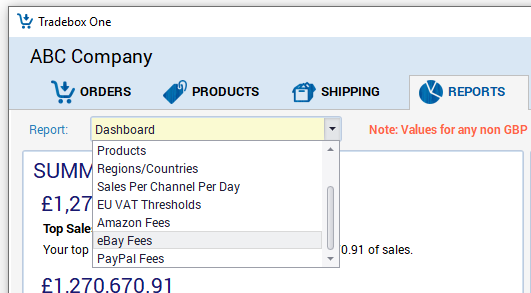 You'll then see a summary of paid fees, showing one line per month.

Over time we've found the only way to get a truly accurate value for eBay fees is to track the payment you make, rather than the itemised transactions. This means there's no option to drill down within the eBay fees report. You can use the To Excel button in the fees report to open the data in an Excel spreadsheet for further manipulation.
If your sales channel has an accounts link set up and you've populated the marketplace fees section, the To Accounts button will be active. Tick the Select box to choose one or more fee lines, then click To Accounts to send those fee transactions to your accounts package. The Posted To Accounts column will update to indicate a successful posting. If you're posting to Sage, you'll also see the Accounts Ref field populates showing the Transaction Number from Sage.