Occasionally, you may see a message in Tradebox that indicates your Sage logon name is already in use. Depending on what processes you're doing in Tradebox, it may display in your Issues log like this:

Or you may get a pop up box like this:

Each of these messages will specify which logon name is in use within brackets.
Alternatively, if you're trying to access the Sage 50 tab of a channel, it may drop you at the Connection page and show a

next to the logon name and password. This could also mean that your logon name and/or password is incorrect, so please check the Issues log which will give you further information.
There can be a few different reasons for this problem to occur, but the most common is that either Tradebox or Sage was not closed down correctly. The user then remains logged into Sage and Sage won't allow Tradebox to log in for a second time.
To resolve the issue, close both the main Tradebox program and the Tradebox Data Service down. Log into Sage using the Manager log on. In Sage versions 26 and below, go to View > User List.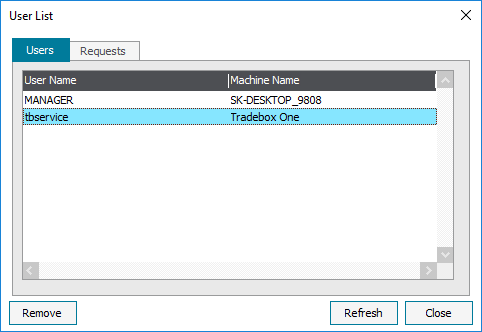 This list shows all the users currently logged into Sage. The users that Tradebox has been set up to use (we recommend calling them TBSERVICE and TBUSER) should never appear in this list when Tradebox and the Tradebox Data Service are both fully closed down. If you see the logon name from your error message appearing here when Tradebox is closed, select it and click Remove.
In Sage version 27 and 28, you can access the same option by going to Settings > User Management > Active Sessions.
Occasionally you may get this message but TBSERVICE does not appear in your Sage user list. If that happens, go to File -> Log Off in Sage and log in with the TBSERVICE username, and then File -> Log Off again. It's not mandatory to set a password on the TBSERVICE user, but you may have done so. If you're not sure what it is, you can check while logged into Sage as Manager, by going to Settings and Access Rights, selecting the TBSERVICE username and clicking Edit.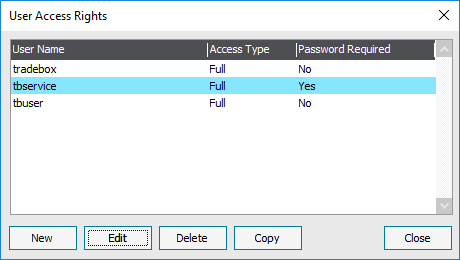 Note - in version 25 of Sage and above, you can't view the existing password, but you can change it without knowing what the previous password was. If you change the password in Sage for a user that Tradebox connects to Sage with, you will need to update the password for that user in the Sage 50 > Connection tab within each channel that connects to this Sage company.