What to do if you can't run a process in Sage because TBSERVICE or TBUSER is logged in
Some processes in Sage require all other users to be logged out. The best practice is to make sure Tradebox is not in the middle of posting to Sage or uploading stock levels and close it down before attempting one of these processes.
If Tradebox is running and you try to run an exclusive process, you may get a message like this:

In that case, first of all confirm whether Tradebox is in the middle of a process or not by checking the Process log, found in Logs in the upper right hand corner of the program. If it is currently posting to Sage or uploading stock levels, it's best to let this process finish.
Then, close both the main Tradebox program and the Tradebox Data Service down.
If, after the program and the service have both been closed down, you still receive the message, then log into Sage using the Manager log on. In Sage v26 and under, go to View > User List.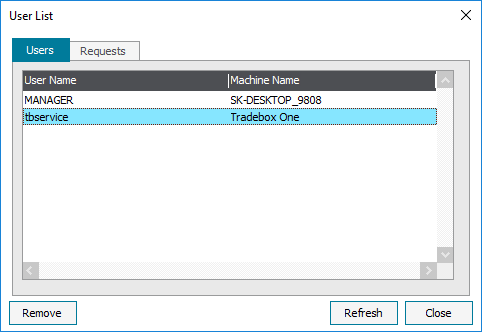 This list shows all the users currently logged into Sage. The users that Tradebox has been set up to use (we recommend calling them TBSERVICE and TBUSER) should never appear in this list when Tradebox and the Tradebox Data Service are both fully closed down. Simply select the user(s) in the list and click Remove to log them out.
In Sage version 27, you can find the same option by going to Settings > User Management > Active Sessions.