Creating the Sales Channel
Launch the New Sales Channel Wizard via Channels > New.
The wizard will take you through the necessary steps to create your channel. The options you choose during setup can be amended later by going to Channels and double-clicking the eBay channel to open it.
Select eBay from the Marketplace drop down list, then click Next.
One the second screen enter the ebay User ID for the eBay account you wish to connect. This is case sensitive and needs to be exact; check the top of your My eBay page if you're unsure. Once you've entered this, click on the Generate eBay Authorisation Token button.
Tradebox will pop a message box. It'll also open a web browser. Do not click OK on the Tradebox message box until you've completed the authorisation step within the eBay page on your web browser.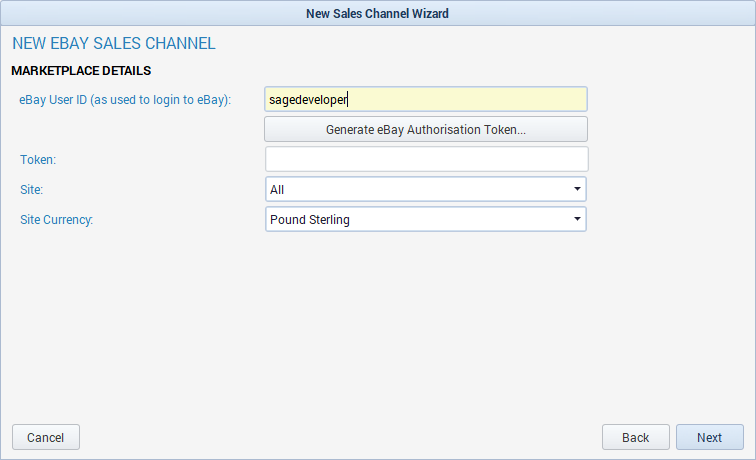 In your browser, log in, and click Agree to authorise Tradebox to connect to eBay.

When you go back to Tradebox, you'll see the following box. Click OK to generate the token.

The token field in the wizard should then populate automatically.
Choose your site for the channel:
All: any sale through any eBay region will be downloaded. Any orders paid in foreign currencies will be converted to GBP at the point of download and you'll only ever see them in GBP within Tradebox. This will use the exchange rate as specified in the Currencies screen. By default Tradebox will use today's exchange rate for all orders downloaded today, regardless of the date of the order.
Choosing a specific regional eBay site will only download sales made through that site. The

site currency

should set itself automatically to match your chosen site. Having multiple eBay sales channels set up to download from one site each is the only means of true multi-currency processing with eBay.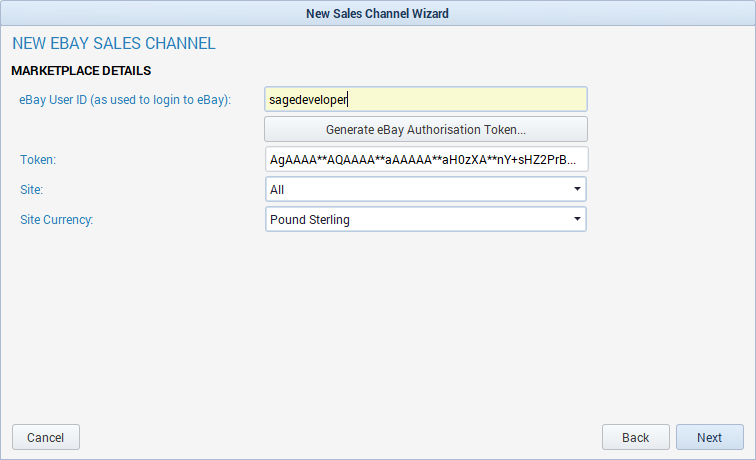 Order Statuses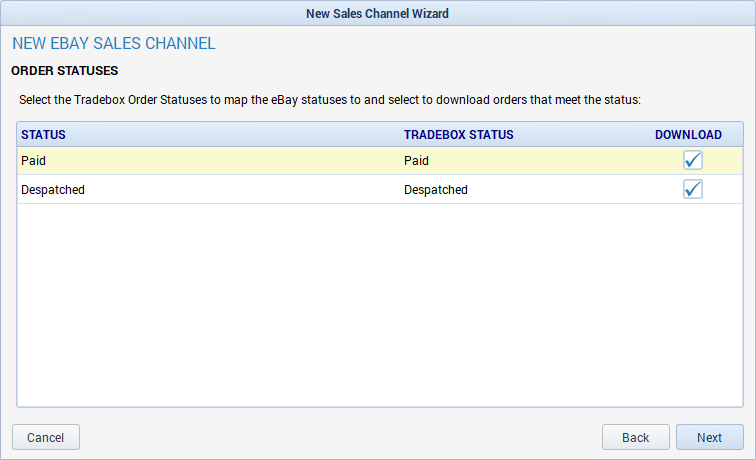 Choose at which point you want an order to become visible to Tradebox. If you want Tradebox to only download orders that have already been marked as shipped on eBay, tick Download for the Despatched status only. If you want Tradebox to download orders as soon as they're marked as paid on eBay, tick Download for both the Paid and the Despatched status.
Note: regardless of status, it is not possible to download orders older than 30 days from eBay.
Click Next to continue.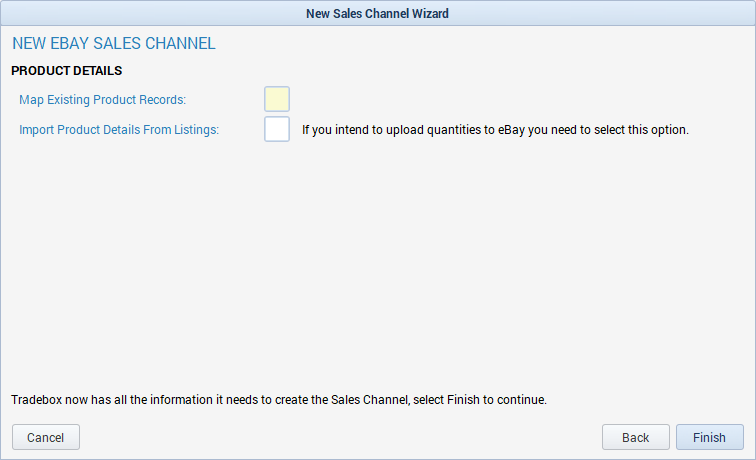 The options under Product Details only apply if you're using Tradebox stock control; if your stock control is set to any other method these will not appear.
Map Existing Product Records should be chosen if you've already created your product records and your eBay SKUs will match the SKUs of the records in Tradebox.
Import Product Details From Listings will import all of your eBay listings into Tradebox. This is an essential step if you plan to upload stock back to eBay, but can be also be done later via the Products screen.
Click Finish to complete the wizard.
If you are connecting Tradebox to your accounts package, you will then be prompted to set up an accounts link. See our guides for accounts links connecting to Sage 50 or to Xero.
Once you've created your eBay channel, you can configure advanced settings inside the channel record. See the eBay channel configuration guide for details.