This article explains the configuration settings available in an eBay Channel in Tradebox. 
To access the channel configuration settings go to the Channels Module and either double click on the channel from the list or select the channel and choose the Edit button. The Channel is split into 6 tabs:
Details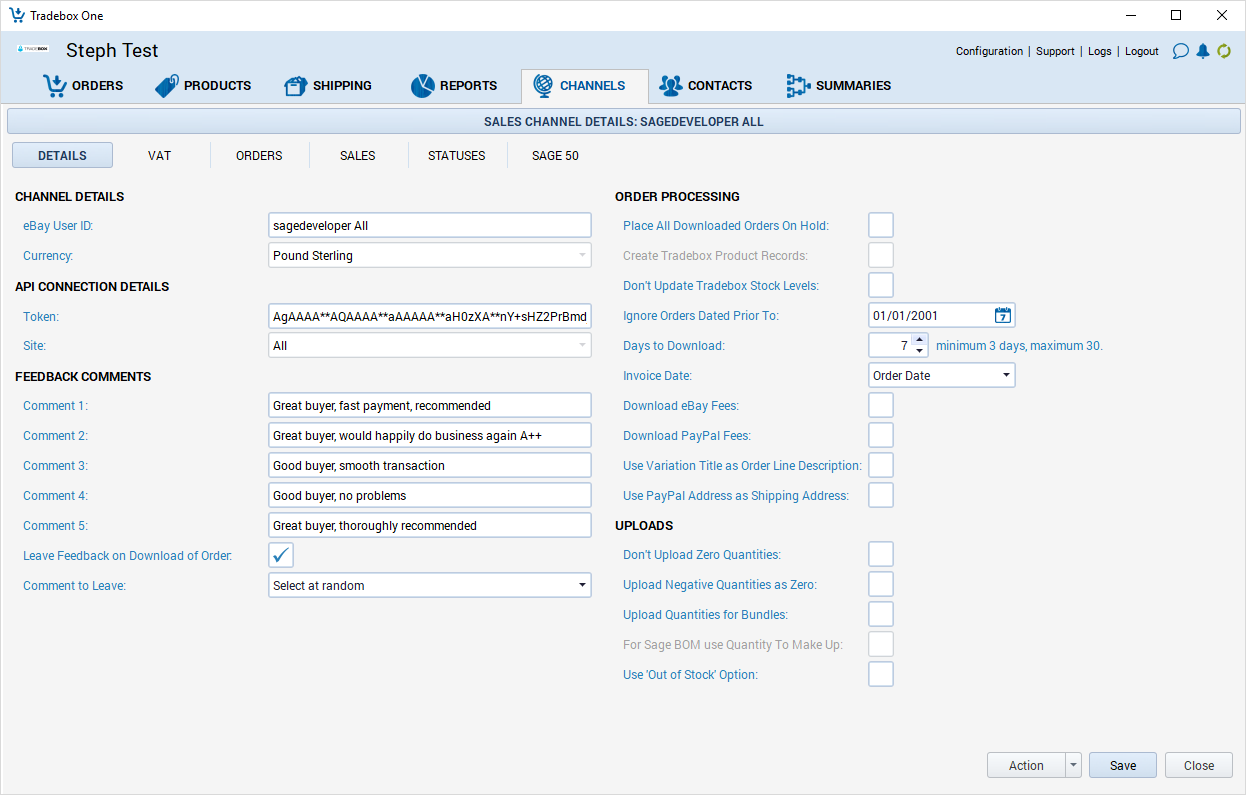 Channel Details
eBay User ID is the ID name of the eBay account you are integrating Tradebox with. This must appear exactly as it does on eBay and should only be changed if you change your ID on eBay itself. A separate channel needs to be created in Tradebox for each eBay ID you wish to connect with. 
Currency displays the currency of the channel. This field cannot be changed once it has been established. In general, a Tradebox channel can only download sales that have a matching currency. However, if the Site field is set to ALL, and the currency to GBP, Tradebox will download eBay orders of any currency and convert them to GBP automatically.
API Connection Details
Token displays the encrypted eBay token that allows Tradebox to connect to your eBay account. eBay hard expire your token every 18 months as a security precaution. When this occurs you will receive a warning in the software alerting you that the token has expired. To renew click on the Action menu and select eBay - Renew Token. This will open the eBay login page. Follow the on-screen instructions or our guide.
Site displays which eBay marketplaces the channel is integrated with, as established in the setup wizard. By default, this is set to ALL. 
Should you wish to change this after setting up the channel, and set up a channel per eBay site, you can do this by selecting the eBay - Change to UK Site only option which appears when you click the Actions button in the bottom right corner. This process is not reversible.
Feedback Comments
Tradebox can be configured to automatically leave feedback on eBay orders as they're downloaded. You can choose from five suggested comments, or Tradebox can select one at random.
Order Processing
Place all downloaded orders on hold automatically changes the status of every imported order to On Hold. This means that the order cannot be marked dispatched or posted to an accounts package until its status has been changed manually in the Order Module.
Create Tradebox Product Records  If ticked, Tradebox will create new products in the Product Module where a SKU in a downloaded order does NOT already exist. The product record created will only contain the minimum information required, such as SKU and description, and will not contain information such as price, location, dimensions etc. This is not applicable if you're using Accounts Software or None as your stock control method.
Ignore Orders Dated Prior to allows the user to establish a watershed date in the channel where the software will ignore any orders with an order date prior to the date entered.
Days to Download: How many days' worth of sales you want Tradebox to download for this particular channel. Tradebox will never download any duplicate sales, but it can cover old ground to see if any orders that didn't meet your criteria on first check are now valid for download, and also update order statuses if applicable.
Invoice Date allows the user to choose the date to use on the invoice produced by Tradebox. The options are:
Order Date - The date the order was placed
Payment Date - The date the order was paid for
Despatched Date - The date the order was despatched
By default, this option is set to Order Date. 
Download eBay Fees enables the user to download monthly eBay fees which are displayed in Reports > eBay Fees. These fees can then be posted to an accounts package if integrated. For more information please see our eBay fees guide.
Download PayPal Fees enables the user to download individual PayPal fees which are displayed in Reports > PayPal Fees. These fees can then be posted to an accounts package if integrated, either as individual transactions or a single grouped transaction. Filters within the fees screen allow individual fees to be gathered together by date, prior to posting to an accounts package, if integrated. For more information, click here.
Use Variation Title as Order Line Description allows any available variation descriptions within the eBay order to be added to the downloaded product description, e.g. Nike Trainers could become Nike Trainers - Size 9 - Red.
Use PayPal Address as Shipping Address allows the PayPal shipping address to be used in the order, rather than the shipping address from eBay. When this option is ticked new PayPal Credential fields appear allowing the user to enter their PayPal API Credentials.
Uploads
Don't Upload Zero Quantities: 

Tradebox will not upload a stock level of zero to any item on Amazon.

Upload Negative Quantities as Zero

: If a stock level is negative, Tradebox will convert the stock level to zero instead.

Upload Quantities for 

Bundles

: Bundle products in Tradebox are by default excluded from uploads. Ticking this box will include them. 

For Sage BOM use Quantity to Make Up

: If you're using Sage stock control and have

BOM

(bill of materials) products, Tradebox can calculate the number of

BOM

end products that can be made up from the component products, and upload that to eBay. 

Use 'Out of Stock' option

: this 

is a setting specific to eBay and allows a listing to be marked as 'out of stock' when a stock level of zero is passed to the listing. If this is not ticked, zero quantities will not be uploaded in order to avoid ending the listing. Before the Out of Stock option can be used in Tradebox, this function needs to be applied in the eBay preferences:

My eBay > Site Preferences
Under Selling Preferences select Show
Tick the Use-Out-Of-Stock option and click on Apply
Please see our Uploading Stock Levels guide for more information.
VAT
The VAT Tab allows the user to choose which rate of VAT to apply against Sales, Carriage and Other income streams from the UK, EU and Rest of World (ROW). These rates are fed from the general configuration settings found in Configuration > Tax Rates where the user can apply the percentage rate against each VAT rate.
All EU Sales are B2B allows the user to apply a blanket setting against all sales from within the EU so they are treated as B2B and VAT is not applied to sales.
Use Product Tax for Carriage configures Tradebox to calculate VAT on carriage income based upon the tax status of the products in the order. If all products in the order are VAT exempt then VAT on carriage will be calculated as VAT exempt using the appropriate tax code. If ANY of the products in an order are liable for VAT then carriage income will be calculated with VAT.
For more detailed information on how Tradebox handles VAT, see our article here.
Orders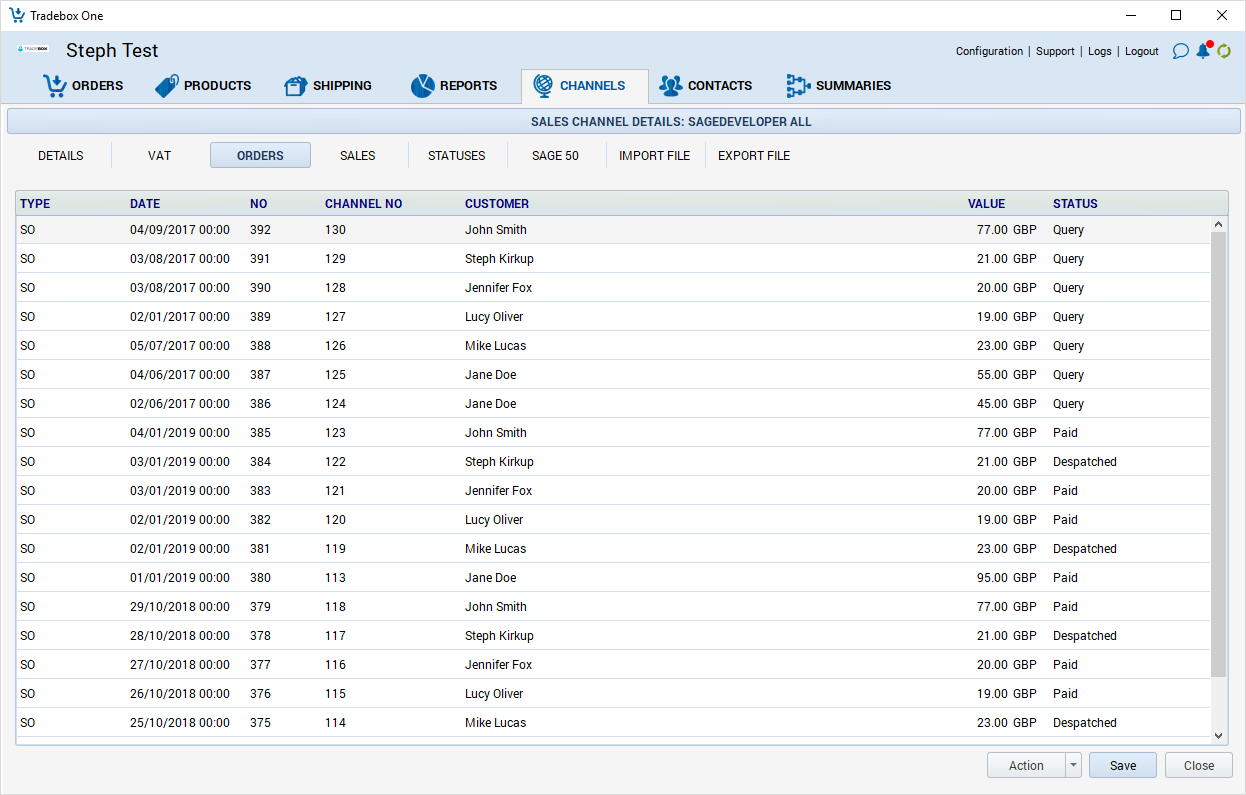 The orders section of the channel will display all orders that have been downloaded for that particular channel. It displays the following information:
Type: Displays either Sales Order or Sales Credit Note.
Date: The order date. By default, this is the date the order was placed.
No: The Tradebox order number, which is automatically assigned on download.
Channel No: The order number from the channel, in this case, the Amazon order number.
Customer: The customer's name.
Value: The total value of the order.
Status: The order status within Tradebox.
Double clicking on any order in the grid opens the order in full. The grid can be sorted by any column and is sorted by order date by default.
Sales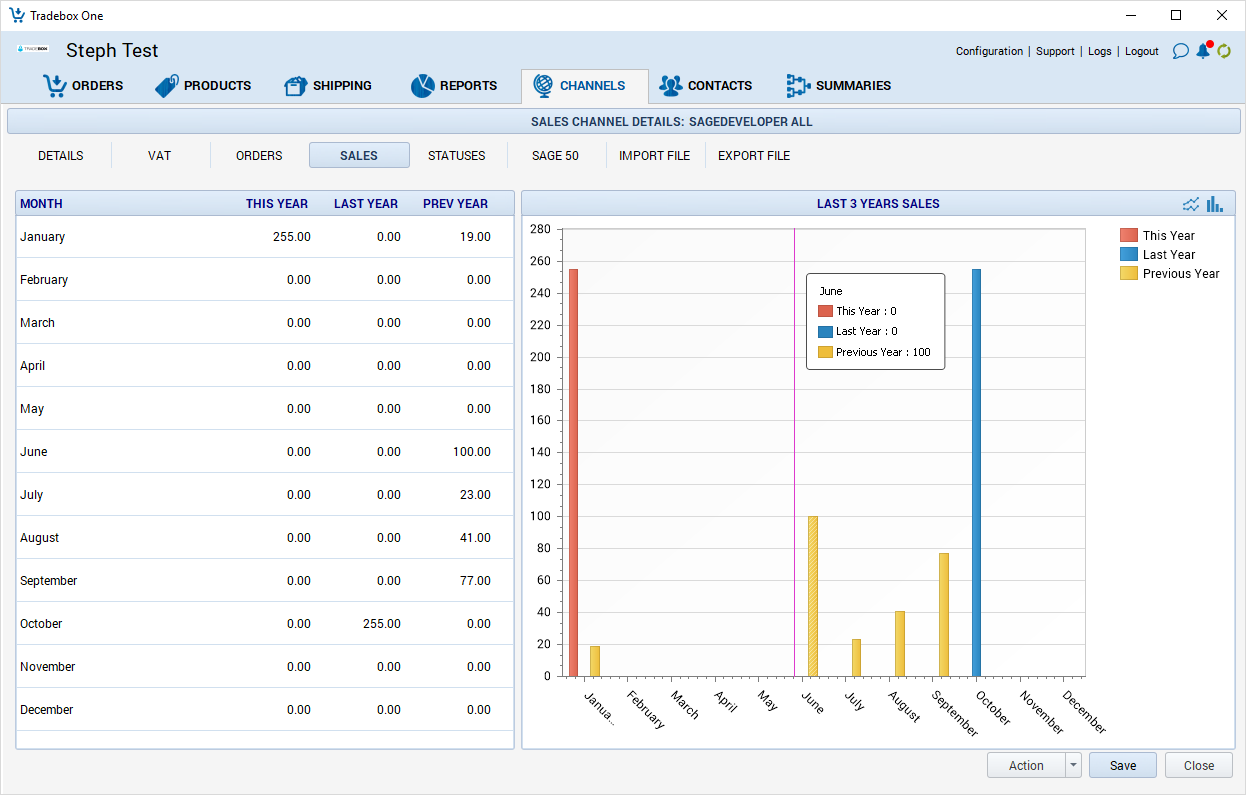 The Sales page of the channel details shows a breakdown of the sales value for this channel by month over the past three years, with the option to view as a bar graph or line chart.
Statuses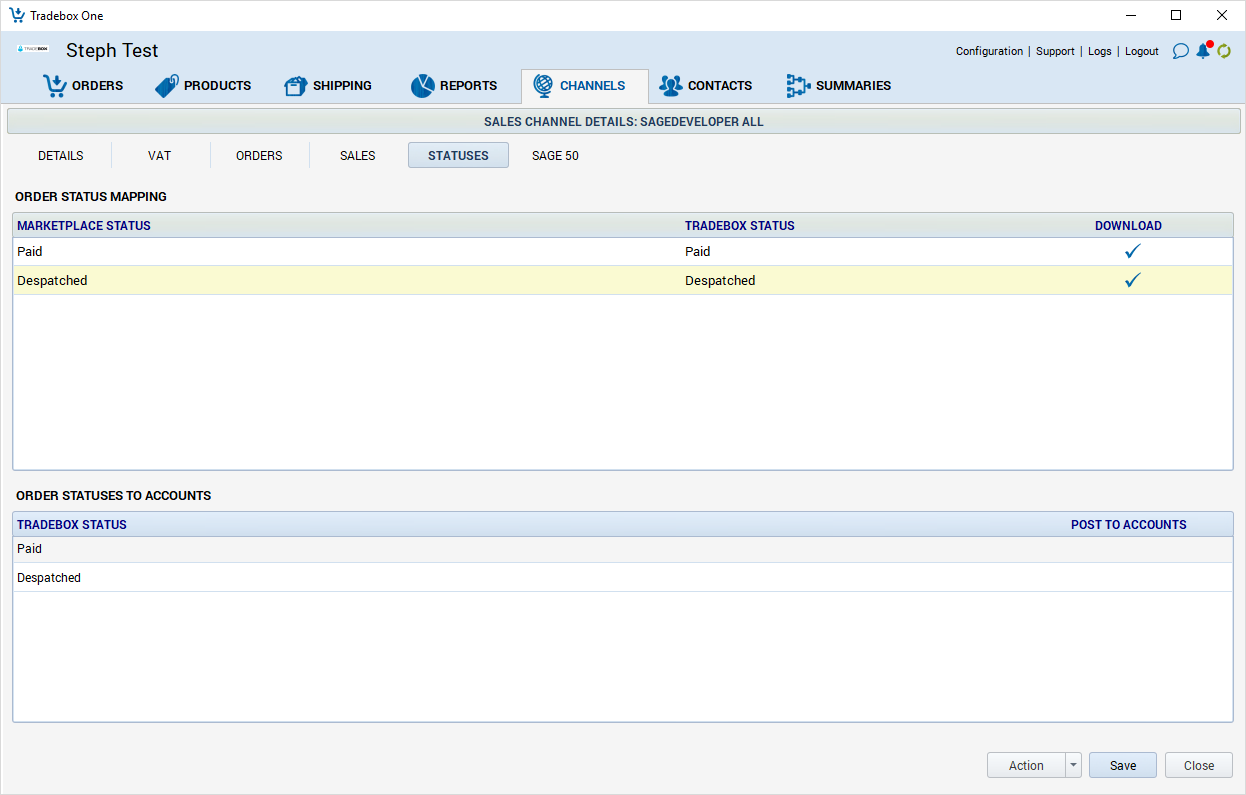 The top section of the Statuses tab displays a list of marketplace order statuses and the corresponding Tradebox order statuses they are mapped to. This controls at which status your orders will download to Tradebox. The bottom section of the grid controls which statuses are set to post to your accounts package (if integrated). To edit a marketplace status, double click on it and a pop up box will appear that allows you to choose what Tradebox status to map it to, and whether you want that status to download. To edit a Tradebox status, double click on it and a pop up box will appear that will allow you to choose whether or not you want orders with that status to post to your accounts. Unpaid orders cannot be downloaded from eBay, so the default statuses are Paid and Despatched.
This is explained in more detail here.
Sage 50/Xero
If you have opted to link Tradebox to an accounts package, you will see Sage 50 or Xero displayed as an additional tab within the channel. This holds the connection details for your accounts package, and, once connected, a new range of tabs will open up. The Sage 50 connection page is shown below: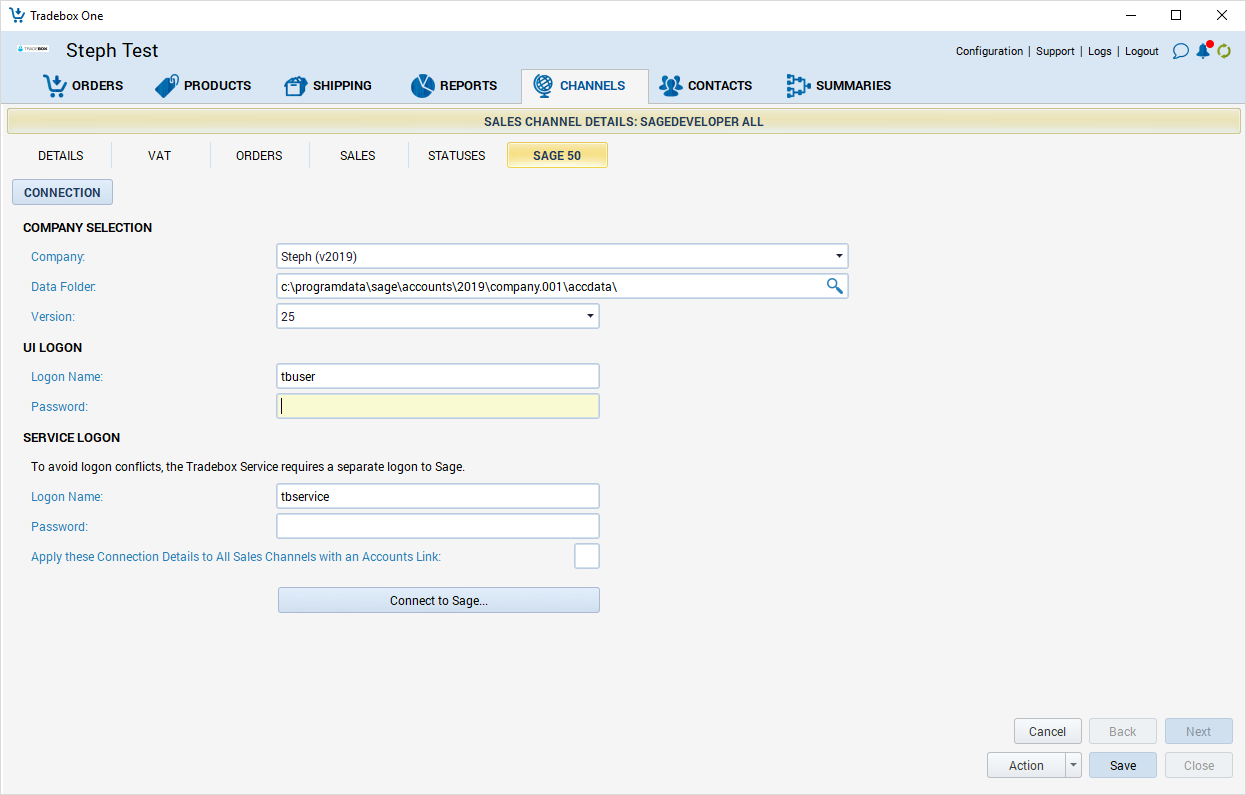 For full instructions on setting up the accounts link, please see our guides for either:
or