These instructions are for users installing Tradebox One on their PC for the first time.
If you are updating an existing version of Tradebox One, or looking to upgrade from Finance Manager, please see the Tradebox V2.0 Upgrade – Tradebox Support article for instructions.
Compatibility
Tradebox V2.0 uses an SQL Express 2019 database. This is only compatible with the following operating systems:
Windows 10
Windows 11
Windows Server 2016 onwards
Recommended system requirements
Processor: 3 Ghz or higher
RAM: 4GB or higher
HDD: 20GB free hard disk space
Display: 1600x900 - 1920x1080
Tradebox One is a desktop application that needs to be installed on a Windows PC or laptop. Tradebox data can be shared and accessed across a local network.
Click here for full system requirements including our stance on installing on servers, other operating systems emulating Windows and accessing Tradebox from outside a local network.
Install Tradebox V2.0 on Main PC
1. Download Tradeboxv2.0setup.exe by clicking on the following link: https://media.graphcms.com/i0AVmxisTM65PlBWkQCi (80Mb)


2. Once you have downloaded Tradebox, allow the installer Tradeboxv2.0setup.exe to run. If your antivirus or Windows Smart Screen takes exception with the file, look for an 'allow to run anyway' option, which is sometimes behind a 'more info' prompt. When the installer starts, click Unzip to extract the install files to the default temp directory.

3. When the files are extracted the Install Shield will guide you through the install wizard. At the end of the wizard choose Finish and the Tradebox One Set Up Wizard will open and prompt you to choose an installation option. To install Tradebox for the first time, choose the 1st option, "Install Tradebox for the first time" and then choose Next.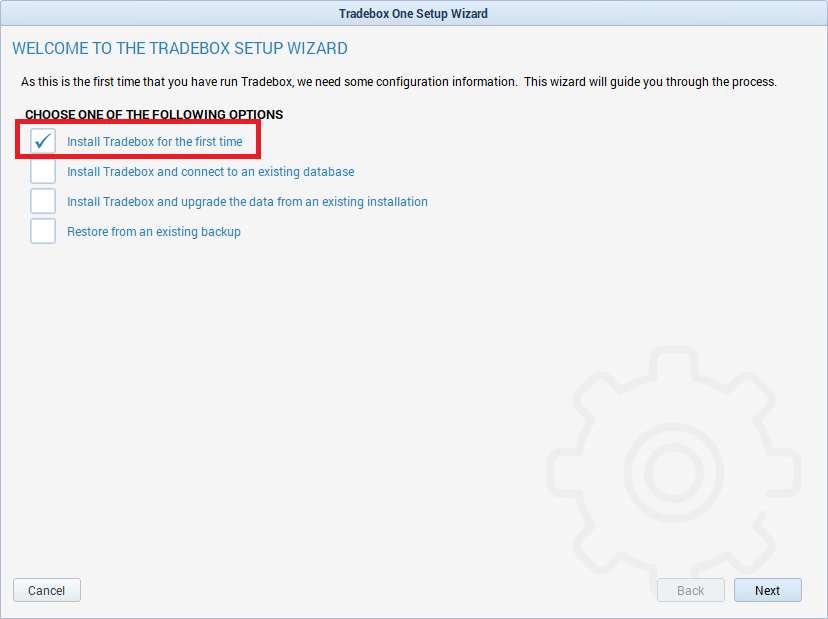 4. At this point, Tradebox may detect that it needs to install SQL Server before proceeding with the upgrade.

Click OK and allow this to install. After the installation has completed, you may be asked to restart your PC. Once the installation is complete, you will need to restart Tradebox.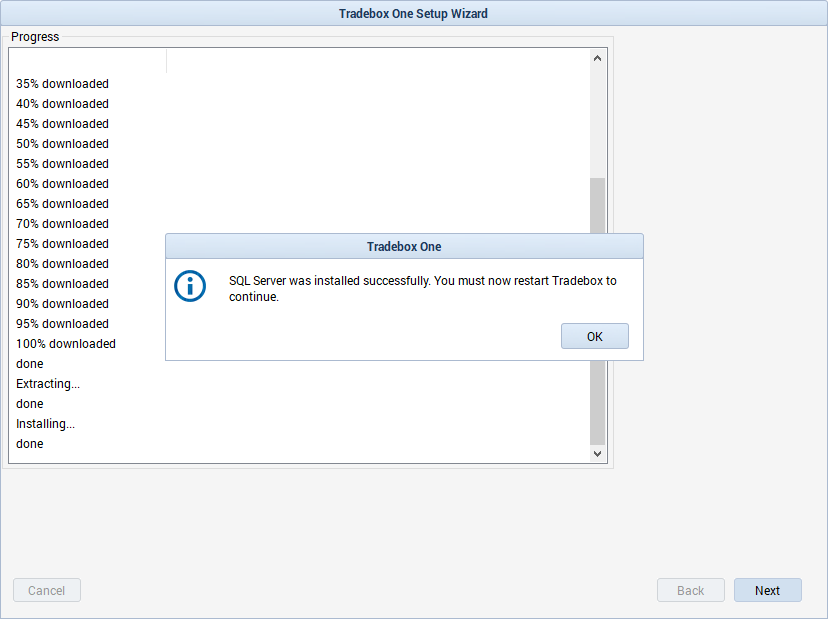 5. To restart Tradebox, open your start menu and type in Tradebox. The program should appear. Select it, and it will open again at the set up wizard. Again, choose the 1st option, "Install Tradebox for the first time" and then choose Next.
6. The Contact Details screen will ask you to enter your contact details. Do this and choose Next: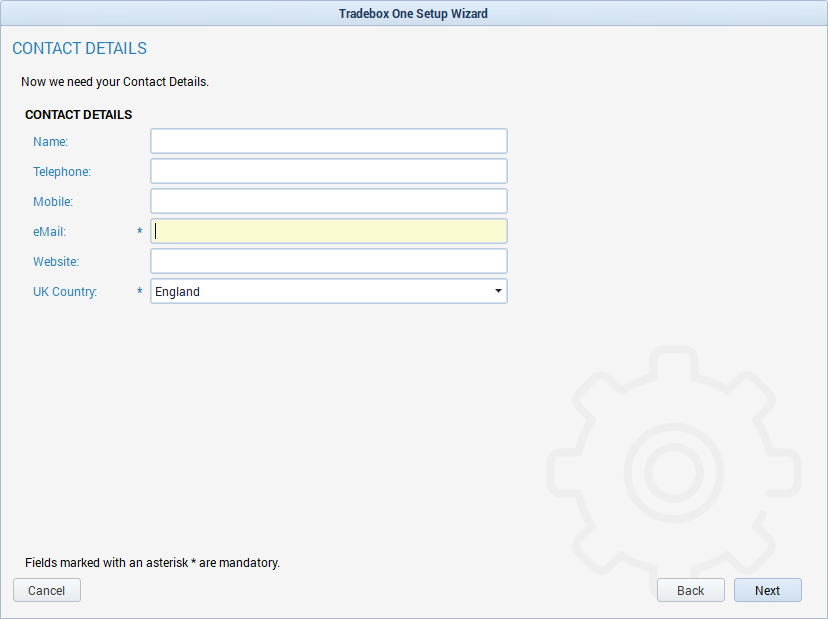 7. The Preferences screen will prompt you to choose:
Accounts: An accounts software package you wish to integrate with (Sage 50, Xero or None)
Accounts Posting: how you wish your orders to be posted to your accounts software (manually or automatically)
Tax Rate: your default tax rate
Stock Control: where stock levels should be controlled from (Tradebox, Accounts Software or None)
VAT No: Your VAT number (if applicable)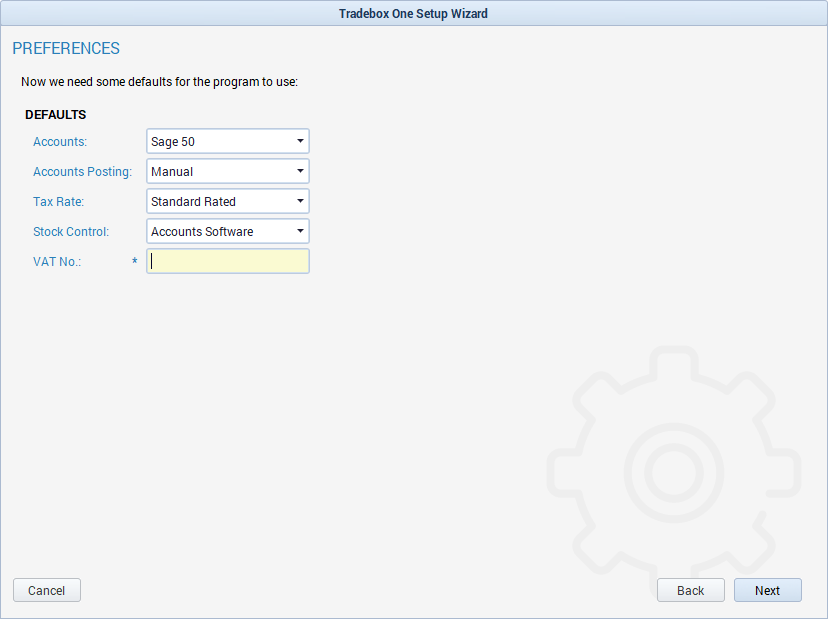 8. The final screen in the setup wizard will ask you to confirm you understand how the Tradebox Data Service works and establish your consent for GDPR. Do this and choose Finish.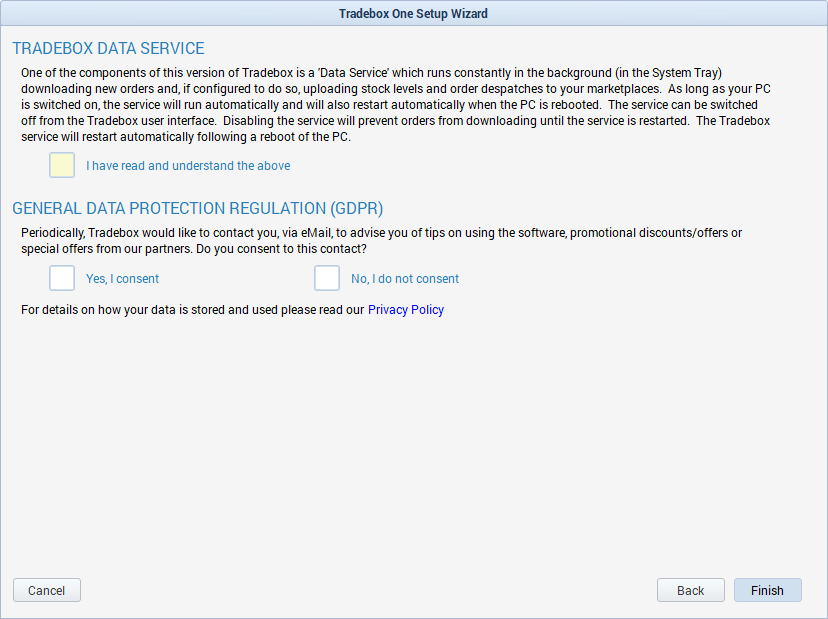 7. You will now be presented with a Tradebox Logon box which will prompt you for a User Email and Password: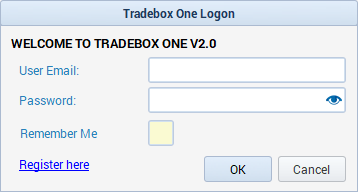 To obtain logon credentials for Tradebox One you will need to create an online user account with Tradebox by selecting the Register here link, which will open a registration form at https://portal.tradebox.co.uk/account/register.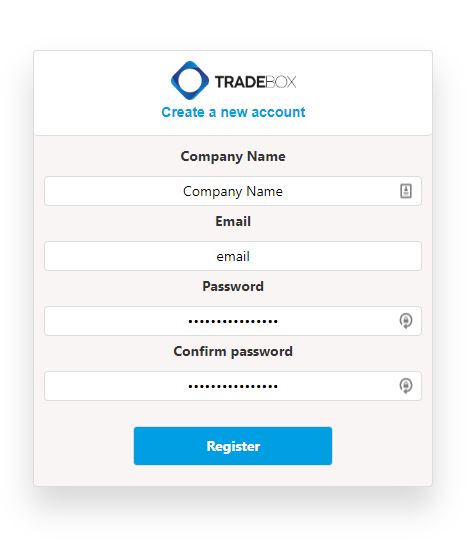 The email provided on the registration form will automatically become the admin email for your Tradebox customer account. Upon completion of the form select Register. This will send a confirmation email to the address provided. Click on the confirmation link to complete the process.
If you are assessing the software on a trial the licence will automatically provide you with a 5 channel, 14 day licence.
If you have already purchased the software your online user account will be amended to reflect your licence and expiry date.
Networking Client PC's
For details on how to install Tradebox on Client PC's and network them to the database on the main Tradebox machine, please read the following article; Networking Tradebox V2.0 – Tradebox Support