Overview
CSV File integration is a useful way to import orders from platforms Tradebox doesn't have an API connection with. Once a CSV channel is created, it's normally possible to completely automate the order download process.
CSV channels are used for some marketplaces with which we're familiar and have been partnered for several years and for bespoke connections to systems we haven't dealt with before. That's part of the beauty of CSV; it's a universal standard for allowing different systems to share information.
This article describes CSV channel setup, which applies to Linnworks, Magento v2, Opencart or Romancart. For further information specific to each of those integrations, click the marketplace name. For Amazon, eBay, Magento v1, Bigcommerce, ekmPowershop, WooCommerce or Shopify, instead see their appropriate page on the Channel Integration Guides section.
This article also describes CSV channel setup for bespoke/custom channels; basically, any marketplace or webstore not mentioned above. If you're setting up a custom channel, you'll first need to check that your marketplace can export the orders in a CSV format that meets Tradebox's file specifications. An in-depth explanation of the required CSV file format, including a sample file, is available within the CSV order specification article. If you're unsure about exporting data from your webstore and whether this is a native function or will need to be added, check with your web developer. Understanding the properties and format of the data in the file is key to making this integration as smooth as possible. If you have questions about the integration or need any assistance, contact Tradebox Support.
Note - to keep the integration working smoothly, it's really important that all the files going through a CSV channel are consistent; having the same data in the same order every time.
Once you've been through this article and created your CSV channel, we recommend reading the CSV Channel Configuration Guide that explains the configuration settings in the channel after it has been created.
Preparation
You will need to download and save an example of your CSV order file locally, with orders in it, to be used by Tradebox during the setup. Make sure this file isn't open in Excel or any other program.
Part of the channel setup will involve choosing how information for more complex orders is presented. If you're generating your own file of test orders, you should make sure you've got at least one example of each of the following:

Multi-item orders
Orders with discount (where applicable)
Any marketplaces, statuses, filters or payment methods you wish Tradebox to use to differentiate orders.

If you are publishing your CSV file to an FTP server you'll need the FTP login credentials to hand.
Creating the Sales Channel
Launch the New Sales Channel Wizard via  Channels > New.
Choose File Import as your Marketplace, and then click Next.
The wizard will take you through the necessary steps to create your channel. All options can be later amended via Channels > Edit.
Sales Channel Details
Enter a name for the Sales Channel (max. 50 characters). This is a label purely for you to identify the channel and can be amended at any time.
Choose your currency from the drop-down. Each channel in Tradebox can only import sales in a single currency. If you sell in multiple currencies you will need to create a different channel in Tradebox for each currency.
Note - if you're setting up multiple channels to handle different currencies, it's fine to use a single import file containing orders in multiple currencies, so long as the file contains the 3-letter currency code on every line. Per-sales channel, orders that don't match the channel's currency will be ignored.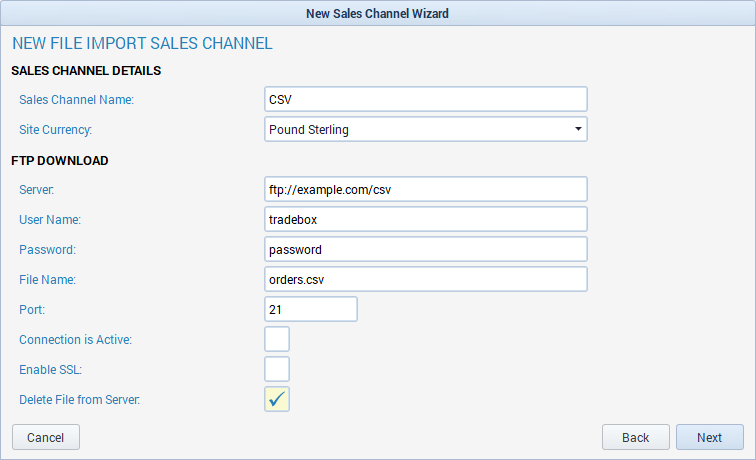 FTP Download (Optional)
Tradebox can read CSV files from your PC or local network, or from an FTP server. If using FTP, enter the server address along with a username and passwordthat Tradebox will use to access your FTP.
Server: This should specify the FTP server name and the exact location on the FTP where the file is stored. On the example above, Tradebox is looking for a subfolder called CSV on the root of the FTP.
User Name: The username that has been set up on your FTP for Tradebox to log in with.
Password: The password that goes with the username specified above.
File Name: This is used to specify the name of the CSV file you're downloading from the FTP if there are other files in the folder. If the only files on the FTP are your order files for Tradebox, or the name of the order file won't be static, you can use * to tell Tradebox to download all files.
Port: The port that Tradebox will use to access the FTP. By default, this will be at 0, meaning Tradebox will use the default port for each connection type (FTP: 21, SFTP: 22, FTPS: 990, FTPS over TLS: 21). If your connection requires a different port, enter it here.
Connection is Active: This option should only be ticked if you require an Active FTP connection (most FTP's don't) - it refers to the connection type rather than meaning on/off or similar. If you are unsure whether your FTP requires Active or Passive connection, check with your FTP provider.
Enable SSL: This option should only be ticked if your FTP requires SSL. Check with your FTP provider if you are unsure.
Delete File From Server: If ticked, this will delete order files from your FTP location once Tradebox has processed the file. If you have multiple channels reading the same file from the same FTP, this should be left unticked so all channels can access the file. Deleting files from the FTP after they've been read isn't necessary for Tradebox; each sales channel will check each order to see if it has already been presented on an earlier download, so there's no risk in having the same file downloaded and processed multiple times.
Click Next to Continue.
Import File Details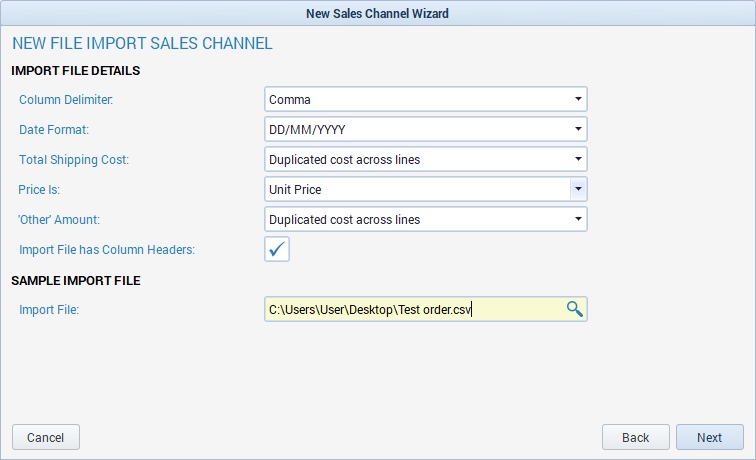 The Import File Details screen is where you'll let Tradebox know how to read the information in your file.
Column Delimiter refers to how your file presents a break within fields; e.g. where does the 'date' information end and the 'order id' information start. Most CSV files are comma-delimited, though Tradebox can also handle tab-delimited or semi-colon-delimited files.
Date Format: choose the format that represents the dates in your file.
Total Shipping Cost dictates how Tradebox calculates the carriage in your file for multi-line orders; is that a Duplicated Cost Across Lines, or an Individual Cost Per Line. See how is shipping cost calculated? for more details.
Price Is shows how the product price is displayed in the file. These can be either the unit price or a line price (the total price of units on the line; a line total that also includes carriage or other charges is not supported). This option decides whether Tradebox multiplies the Unit Price by the quantity to get the line total, or divides the Line Price by quantity to get the price of one unit.
Other Amount is usually an additional service that is charged for, like gift wrapping or shipping insurance. This option shows how the Other Amount is displayed against each item in the file. The options are Duplicated Cost Across Lines or Individual Cost Per Line and follows the same logic as shipping cost.
The Import File Has Column Headers tick box should be ticked if the first row in your CSV file is a header/column label row. If the first row is your first order, untick this box. While files with or without headers are supported, in general we'd advise using files with headers as this will make it easier for you to check the information in the file in the event of any discrepancies.
Note- in either instance Tradebox will only read the file if there are no blank rows between orders, or between the header row and the first order line.
Next, you'll need to choose an example of the import file to allow Tradebox to map the fields. Click the 

 button > browse to and select your file and choose Open.
Import File Format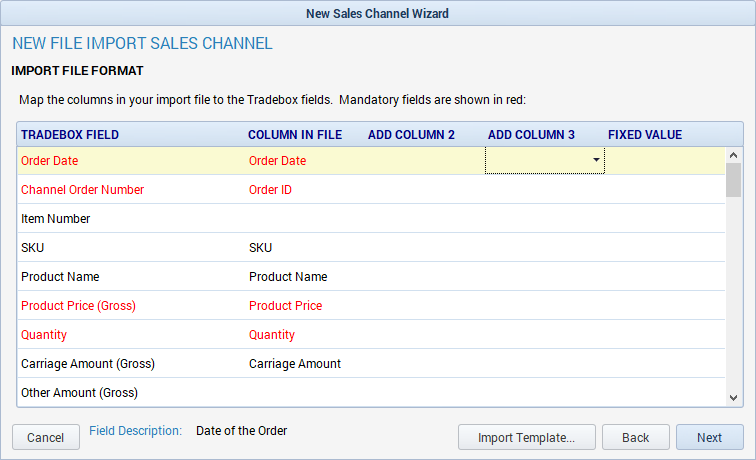 This grid displays the possible fields that Tradebox can import and the corresponding columns from your file that they are mapped to. Mandatory fields appear in red and must either be mapped to a column in the file or set to a fixed value.
If your file has headers, Tradebox will attempt to automatically match the columns in the file with the relevant Tradebox fields. If your file doesn't have headers, the columns will appear as A,B,C, D and so on. To add or change a mapping, simply click intoColumn in File and select from the drop down. Where a value will always be the same for every order, and a column does not appear in the file, you can use a fixed value. For example if every order in your file is paid by Paypal, you could set a fixed value of Paypal against Payment Method. To add a fixed value, you can leave Column in File blank and simply type directly into the Fixed Value column.  Order Date and Channel Order Number cannot be set to a fixed value, but must be mapped to a column in the file.
Sometimes the information that represents one field in Tradebox may be presented as multiple fields in the file. For example, if your file carried the buyer's first name (John) and last name (Smith) separately you'd likely want to amalgamate this into Tradebox's billing name field as John Smith. To accommodate this there are 2 additional columns; Add Column 2 and Add Column 3. To amalgamate text file fields, you'd map the first field to Column in File, the second to Add Column 2 and the third to Add Column 3 where applicable, e.g.
| | | |
| --- | --- | --- |
| Tradebox Field | Column in File | Add Column 2 |
| Billing Name | First Name | Last Name |
Where the field represents a monetary value, adding columns will take the total of the columns mapped. The common example is to calculate gross prices, which are a requirement of the software. If the CSV file contains the net unit price (exclusive of VAT) and the amount of VAT per unit in separate fields this feature can be used to combine the 2 prices to calculate the gross price, e.g.
| | | |
| --- | --- | --- |
| Tradebox Field | Column in File | Add Column 2 |
| Product Price (Gross) | Unit_Price_Net | Unit_VAT_Amount |
The CSV specification article provides guidance on all of the available Tradebox fields, how the data needs to be configured in the file and how this data is used in Tradebox. Field mappings can be amended at any time after the channel is created via Channels > Edit > Import File tab.
Once you've mapped all your fields, click Next.
Sales Sources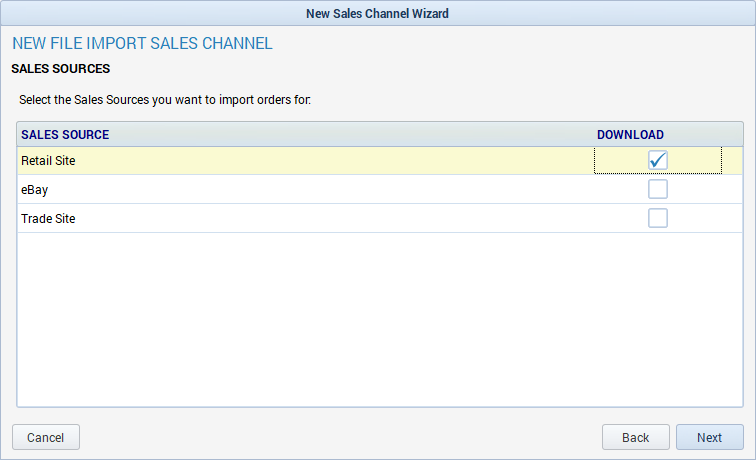 Tradebox can import or ignore orders based on the source of the sale, if the information is provided in the file. This is useful if all orders appear in the same file, but you want to apply different settings depending on where the sale originated. If you mapped a sales source from your file in the previous screen, Tradebox will display a list of every unique entry that was present in your example file. The list of sales sources can be amended, and additional sales sources added, in the sales channel details screen after the channel has been created. In the above example the channel has been set only to download orders placed on the user's retail site, as opposed to eBay or the trade site.
Order Statuses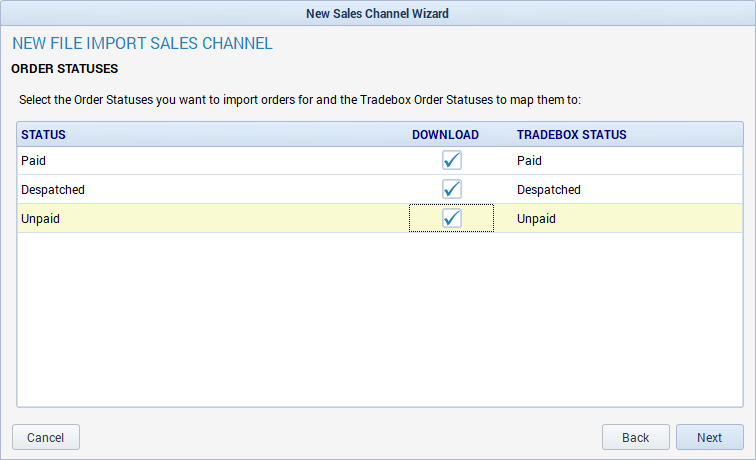 If an order status column has been mapped from your file, Tradebox will display each unique entry detected in this screen. You can choose which of those you want to download, and map them to a corresponding Tradebox status. If there are any statuses you wish to download that don't appear in your example file, you can manually add them after the set up is complete in the Statuses tab of the channel. Click Next.
Discount Type and Product Details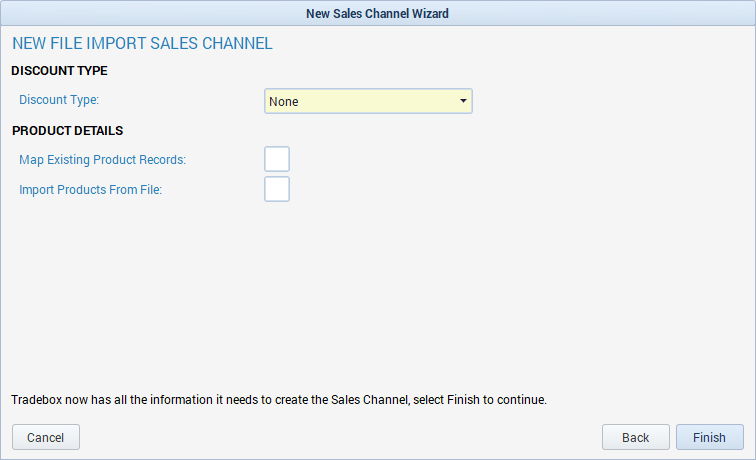 Discount Type
The discount type allows the user to choose between a discount type of Order, Line or None. An Order discount setting expects the discount to be populated on every line of the order; this will be added as a negative item line following the last item on the order within Tradebox. If you're integrating with any version of Sage Accounts up to and including v24, the discount amount will be broken down pro-rata across the items on the order. In Sage 50 v25, the discount will appear as a negative line on the order.
A Line discount setting expects the discount column in the file to be populated with a value for any items that are discounted, and any other items to have this column populated as 0. A discount setting of None effectively disables discounts through this channel; this should be used where no discounts apply, or where the prices in the file are already presented at the discounted price.
Note - a Linnworks file generated using the script in our Linnworks Setup guide will use an Order discount.
This option can be amended at any time in the sales channel details screen of an existing channel.
Product Details
The options under Product Details only apply if you're using Tradebox stock control; if your stock control is set to any other method these will not appear.
Map Existing Product Records will instruct Tradebox to automatically create a mapping between existing product records in Tradebox and the product SKUs that are downloaded in the orders from the CSV. Existing mappings can be amended and new mappings created at any time via Products > Mapping.
Import Products from Filewill allow you to browse for a file containing your product information. These products will then be imported into your Tradebox product list.
Select Finish to complete the set up wizard.
If you are connecting Tradebox to your accounts package, you will then be prompted to set up an accounts link. For information on how to do that, see our guides for:
or
Once the Sales Channel wizard is complete you can configure additional channel settings. See the CSV Channel Configuration article for a detailed explanation of all the options in a CSV channel.
Importing Orders
Once your sales channel has been set up and configured, you can begin importing orders. Unless you have Tradebox set up to download your order file from an FTP, you will need to manually place the file into the input folder for Tradebox to process.
When you set up the sales channel, Tradebox will automatically create an input and an output folder within the Tradebox data folder. These are stored in the Import File section of the sales channel which you can access after set up.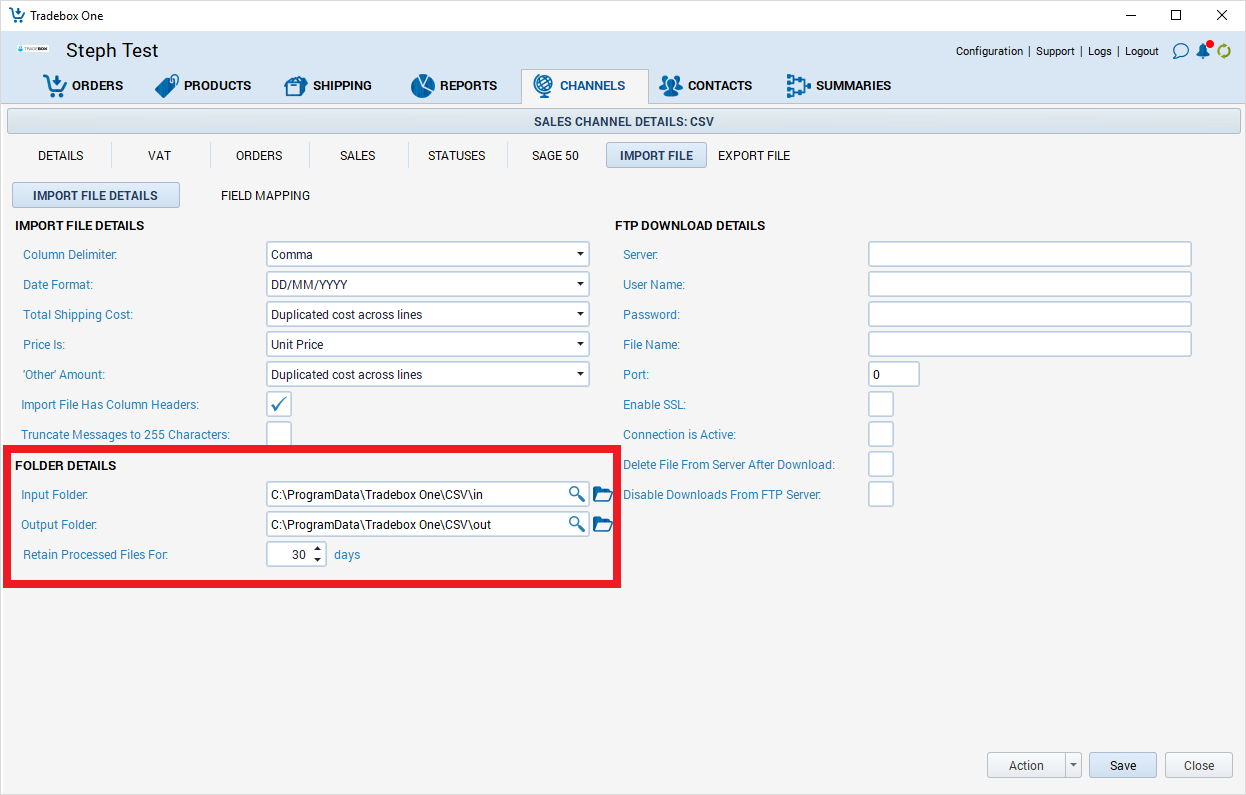 You can use the default folders, or redirect Tradebox to your own using the

 icon. To open a folder, simply click on the 

 icon or click Action > Open 'in' folder in file explorer. Please note that these folders should only be used to store files intended for Tradebox to read.