To import products from EKM into Tradebox, you first of all need to export a file of products from your EKM site. This option is only available if you are using Tradebox stock control. If you're using Accounts Software stock control in Tradebox, you should import your product records from Sage or Xero instead.
To export the EKM product import file, log into your EKM site and select the Features section at the top. From the list of installed features, choose Import/Export System.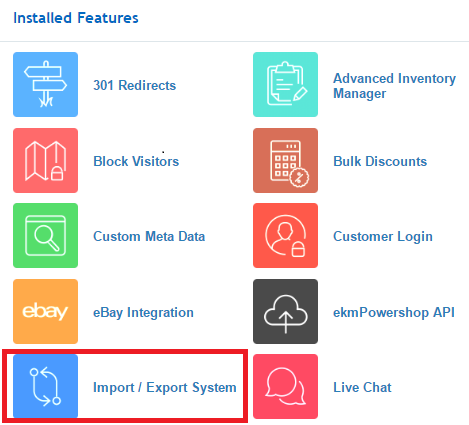 From the two options given, choose to Export to File, and on the next screen choose to Export Products. On the following page, you are able to choose which categories you wish to export products for. We suggest choosing All Categories to give Tradebox a complete record of your EKM products.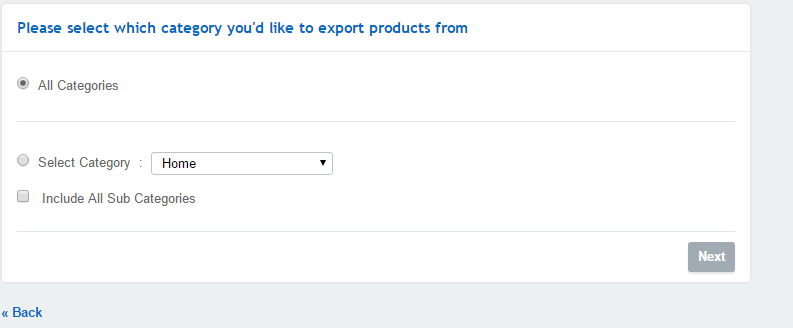 Tradebox is configured to accept the file with all fields, so when prompted to select the fields you would like to export, there is no need to make any changes as the fields are all ticked by default. Click next.
On the final page of the export wizard, you are asked to choose a format to export the file in. Tradebox requires this to be a CSV (Comma Separated Values) file. From the drop down box, ensure that Comma Delimited (Default) has been chosen as shown below, and then click on the CSV file button to generate the file.

When complete, a link will appear to allow you to download the file. Save this on to a convenient location on your PC, ready for import into Tradebox.
To import the file, go to Products in Tradebox, and click on the Actions menu. Select EKM as the Source and then browse to the file, and click OK.