Registration
When you use Tradebox One for the first time you will be presented with the following logon screen prompting you to enter your logon email and password address: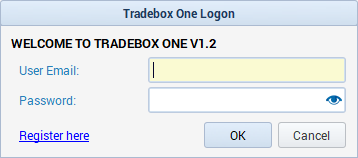 These logon details are referenced against your user account stored online in the Tradebox Customer Portal. If you haven't registered you can do so by clicking on the "Register here" link on the logon screen or visit, https://portal.tradebox.co.uk.
The initial registrant will be deemed to be the administrator of the account and will have the ability to create/delete logins for all subsequent individuals they wish to register as users of their Tradebox One desktop software. During registration you will be prompted for company registration information, such as company name, address, and contact information. This information is used in line with our Privacy Policy.
When you submit your registration a confirmation email will be sent to the email address provided during registration requiring the user to click on a confirmation link to complete the registration.
Your online account will also hold the licence type you have subscribed to and the expiry date of your Tradebox One software licence. The Tradebox One desktop application communicates with your online account to verify the licence type and licence expiry date of the software.
User logons/Access Management
Every user of the Tradebox One application has their own unique logon and password. As described these are controlled by the Administrator of the account via the Tradebox Customer Portal. The following access management policies are designed to safeguard users:
All passwords must be a minimum of 6 characters long
Passwords must have at least one non letter or digit character and at least one uppercase character('A'-'Z')
Users have a maximum of 3 attempts to login to the software. On the 3rd failed attempt the user will be locked out and need to reset their password.
Any registered user that hasn't logged into the system for more than 90 days will automatically have their password reset