Many online retailers are registered for VAT in countries other than the UK. This article explains how to configure Tradebox One to customise tax codes and set these per country.
Tradebox already classifies each order as UK, EU or Rest of World and applies a VAT rule based on the shipping address of the order.
EU Countries
By default, Tradebox adds a tax rate for each EU country to the tax rates table within Tradebox, with the correct tax rate at the time of publication. Whether these are used is determined by a setting on each individual sales channel, on the VAT tab: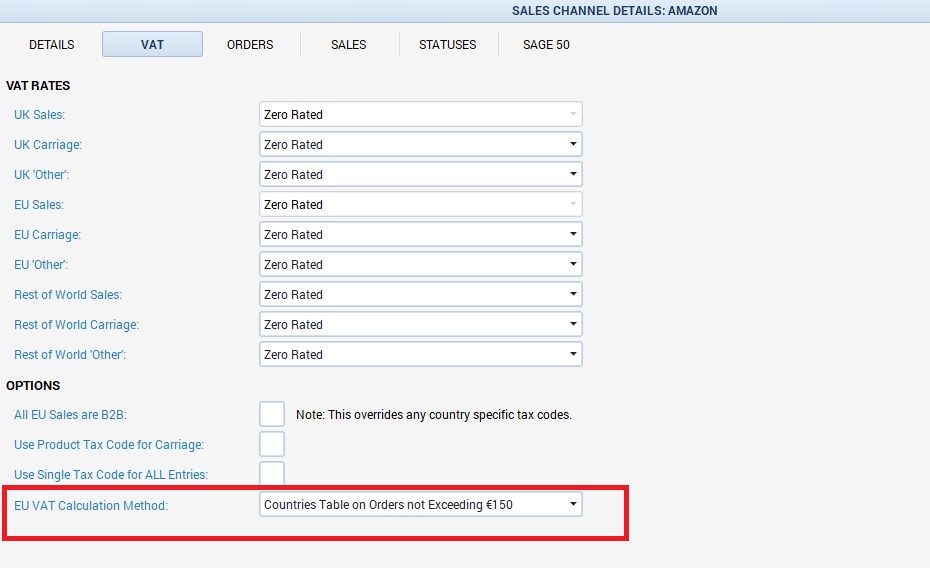 There are three options here:
1. Zero Rated VAT EU Orders
2. Countries Table on Orders not Exceeding €150
3. Countries Table on all Orders Regardless of Value
If you choose option 1, Tradebox will zero rate all EU orders and the tax rate per country will not be taken into account.
If you choose option 2, the tax rate per country will be taken into account on all orders up to a value of €150.
If you choose option 3, Tradebox will use the tax rate per country for all EU orders.
When you have chosen option 2 or 3, the tax rates will be displayed within Configuration > Countries in Tradebox. If a tax rate changes in a country, go to this screen and double click on the country to edit it.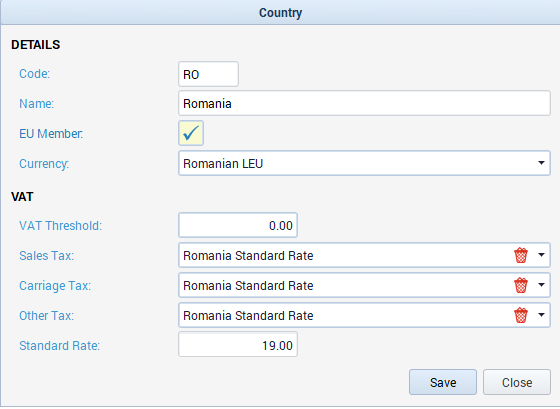 Changing the Standard Rate for the country will alter the tax percent that Tradebox applies for that country.
Creating a New Tax Rate for Non-EU orders or Product-Specific Tax
By default, Tradebox will charge all ROW sales as zero rated, but if you have different requirements you can also apply a tax code to a ROW country. These are not pre-populated in Tradebox so would need to be created.
You may also need to create a tax code if you sell products that have a specific tax code in a specific country outside of the UK (e.g. children's clothing that is sold at a reduced rate in Germany).
To create a new tax code in Tradebox One, go to Configuration and select the Tax Rates option. This displays the default tax rates in Tradebox One and the percentage each is set at.
To create a new tax rate click on the New button. Fill out the form, providing an identifiable name for the new tax rate and the percentage it operates at (see below). Then choose Save.

Setting the tax treatment per country
To apply the new tax code to a specific country, in the Configuration menu click on the Countries button. Scroll down until you find the country and double click on it. Set the appropriate tax code for Sales, Carriage and Other income, and make sure the Standard Rate box is filled out correctly.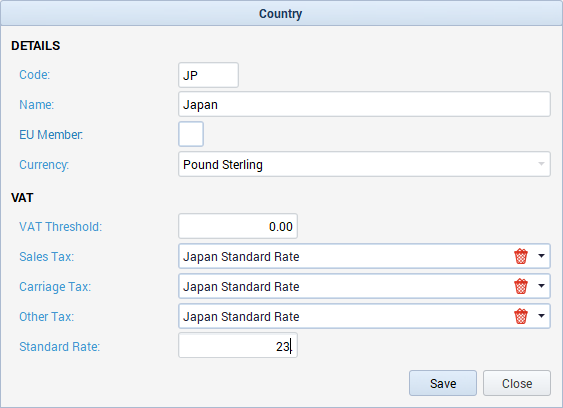 Based upon this configuration, Tradebox One will allocate the new tax rate against all sales, carriage and other income on an order with a matching Shipping Country, i.e. in this example an order with a shipping address in Japan.
Mapping to your Accounts Package Tax Codes
If you do have an integration set up to an accounts package you will need to map the new Tradebox tax code to an existing accounts tax code. To do this, double-click on the sales channel in the Channels module and choose the Sage 50/Xero tab and then the Tax Codes/Rates tab. This will display all of the existing Tradebox tax codes and the mappings to the tax codes in the integrated accounts package (Sage 50 in this example). Double click on the new Tradebox tax code and choose the corresponding tax code from the integrated accounts package then choose Save.

Applying a tax code per-product-per-country
By default, Tradebox will apply the new tax code to ALL products on orders that are shipped to the specified country. This includes products which may be marked as VAT exempt in your product list. It's worth noting that whilst a product may be VAT exempt in the UK (for example children's clothing or books) it does not necessarily mean that the same products are VAT exempt in the country it is being shipped to. If you need to override this for any specific products shipped to the country in question, you can set a per-product-per-country tax treatment.
To do this go to the Product module and double click on the Product Record then choose the Taxation tab. From the Actions menu in the bottom right choose Add Product Tax For Country.

Select the country you want to add the tax code for and the relevant tax code, then click Save.
If you have multiple product codes that you need to adjust, you can do this by importing a CSV file. To do that, go to Products within Tradebox, and then from the Actions menu choose Import Tax Codes Per Country.
You'll need a very simple CSV file of three columns to import product tax codes; the product SKU, the two letter country code, and the Tradebox tax code number. A sample file can be viewed by selecting the View Expected File Structure link within the import option itself.