Tradebox One can import the following fees:
This requires a direct connection to the marketplace, so using Tradebox to connect to a third-party interim system such as Linnworks does not allow fees to be downloaded.
FAQ
What can I do with the fees?
You can view their amounts at a summary level or drill to individual transaction level within Tradebox
You can also post them to your accounts package if the channel has an active accounts link

Fees post to Sage accounts as

Bank Payments

and

Bank Receipts

Fees post to Xero accounts as

Spend Money

and

Receive Money

transactions
Will they post automatically to my accounts package?
In most cases no, they will need to be manually posted. The exception is eBay managed payments order fees, which can be posted as individual transactions when the invoice for the related order is created.
Is it possible to post itemised per-order fees?
Amazon fees post an amalgam transaction per-settlement-report, per-fee-type. You'll typically see 3 transactions to represent a 2-week settlement period.
eBay monthly fees post an amalgam monthly transaction, which is based on the amount you've paid to eBay for the prior month's fees.
For eBay managed payment order fees, Sage users have the option to post individual per-order fees or amalgam summary fees. These fees will be automatically posted to Xero as a summary. Fees are a wholly separate transaction to the invoice or sales order, there'll be nothing that links them in your accounts package.
How are foreign currency fees handled?
Tradebox will record the exchange rate at the time of download with every fee. This will be the rate used whenever you see the fee later, so it's always as near a representation as we can get of the equivalent GBP amount of the fee as it was at the time.

When posting foreign-to-foreign through an accounts link, Tradebox will provide the exchange rate as it was at the time of download to your accounts package to be used in later revaluation.
When posting foreign-to-GBP through an accounts link, Tradebox will run the conversion using the exchange rate as it was at the time of download, so it'll be the same even if you're posting at a later date after the rate has changed.

For full details on how Tradebox uses exchange rates, click here.
How often will fees download? Is there a lag?
PayPal fees and eBay managed payment fees download with every order.
eBay subscription fees download monthly, after you've paid eBay. eBay bill sellers calendar-monthly, you'll typically be invoiced towards the middle of the following month and if you've set payment to be taken automatically this will normally be marked as paid a day or two after the invoice.
Amazon fees download when their settlement report is generated, every two weeks. The date of this will vary per user.
Why aren't fees deducted from the sale amount? I don't receive the full amount of the sale
The order values in Tradebox will always reflect what your customer pays, and if you're using it to integrate with an accounts package those are the values that will be passed as well. It's a financial record of the transaction and if at any point your customer requested an invoice, you'd need that to display the amount they paid.
This also allows you to track and report on fees separately to sales, and to process them with the appropriate tax code.
The download and posting of fees should balance out the order value being of a higher value than the amount you as the seller actually receive, once a purchase is fully accounted for. This is one of the reasons why we recommend tracking your online sales through a notional bank in your bookkeeping, as this reflects the in/out movement of your account with Amazon, eBay or PayPal.
For example, our customer has placed a £50 order, and our marketplace fee is 10%.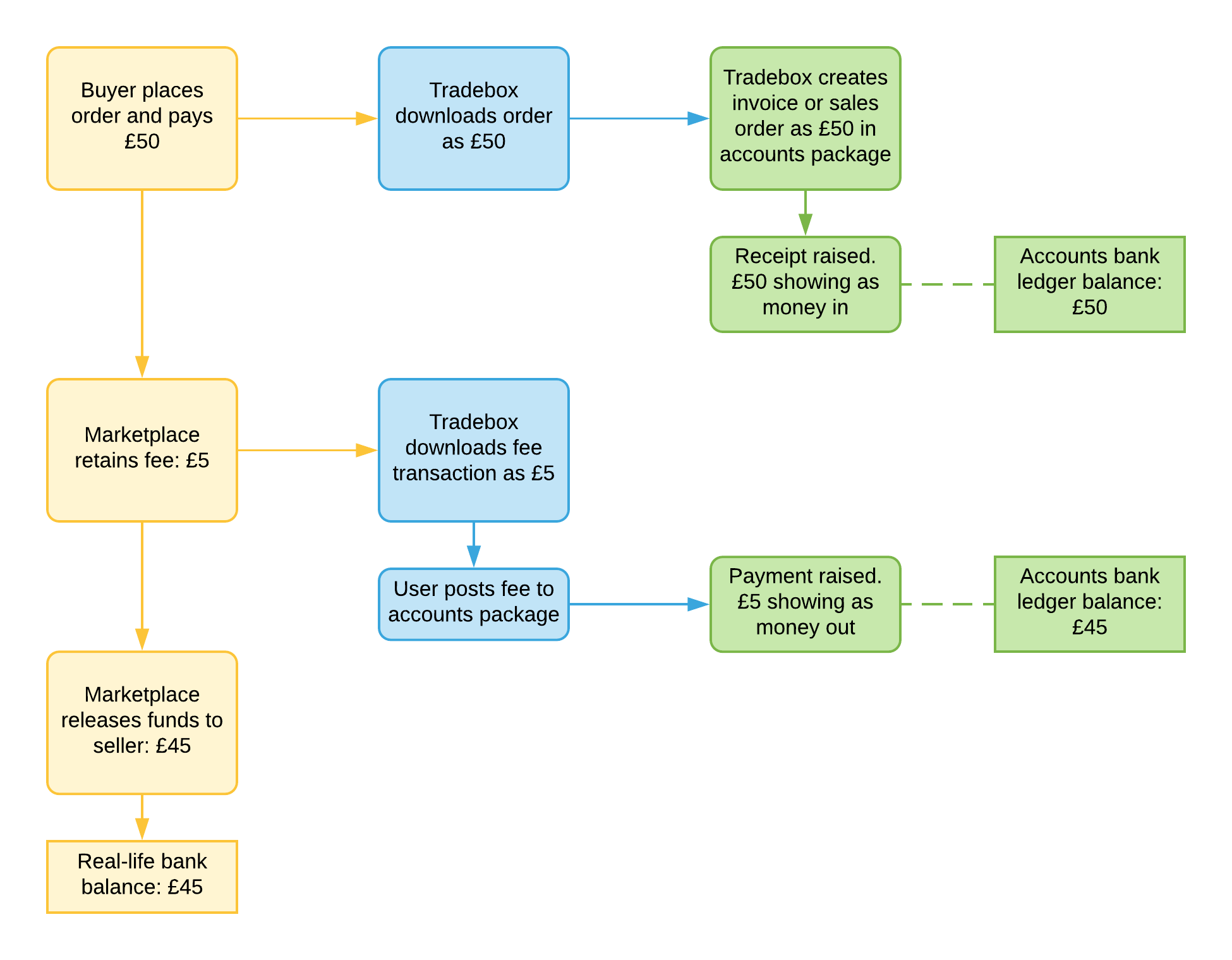 How to download, view and post fees to accounts
We have an in depth article that explains the process for downloading, viewing and posting each type of fee. Click the relevant link below:
If you need to post fees to your accounts a second time
Once fees have been posted to the accounts, they will not do so again unless they're reset. You may need to reset your fees to post a second time, for instance if they were posted with incorrect settings or if you have restored an earlier backup in your accounts package. If you need to do this, please follow the instructions in our resetting fees article.