In Tradebox One, Amazon fees can be automatically downloaded based on the fortnightly settlement reports that Amazon produce.
Fees download automatically, but will not post to your accounts package until you approve them. Click here for a general overview of fees and related FAQ's.
Setting up to download Amazon fees
The option to download fees is found in the Details page of an Amazon sales channel.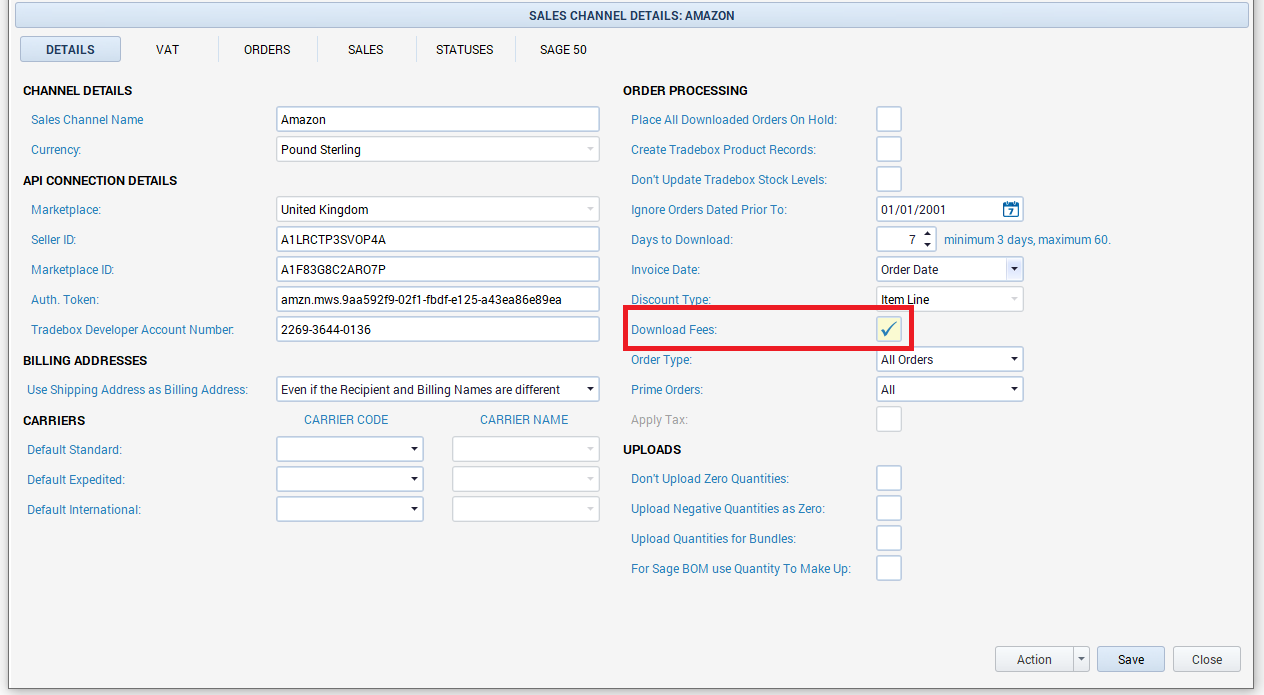 ❔ Why is my Download Fees box greyed out?
If you have multiple Amazon sales channels set up for the same regional marketplace (e.g. an Amazon UK channel and an Amazon FBA UK channel), once you've chosen to download fees through one channel the option will be disabled for any other same-region channels tied to the same Amazon account. This ensures there's no duplication of the fee process. Each Amazon fee file contains both merchant and FBA fees, Tradebox will process all available fees so long as you've set the fee options in one channel for each region; one UK channel and one DE channel and one FR channel etc.
If you are posting your Amazon fees to an accounts package, you'll also need to choose your posting details.
For Sage, in the Sage 50 > Nominals tab, choose a nominal, a bank account and a tax code to use for the fee transactions. Choosing a department is optional, the default department will be used if one isn't chosen.
For Xero, first make sure you've created Amazon as a Contact in Xero. Then in the Xero > Accounts tab choose a contact, an account, a bank account and a tax rate to use for the fee transactions.

Make sure you click Save after making any changes to your fee settings.
To view and post fees
Overview: to post fees to accounts, go to Reports > Amazon Fees. Double-click to drill into the Transaction Type view of any settlement period, and click the To Accounts button. If you have multiple periods of fees to post, click Back to return to the Settlement Report screen then drill into each settlement period in turn to post to accounts.
Once you've set up an Amazon channel to download fees, they'll come down automatically when the order download runs. This means your sales channel needs to be Active and the data service needs to run at least one cycle after you enable fee download.
Once some fees have been downloaded, go to the Reports screen and Amazon Fees will appear as an option in the dropdown list.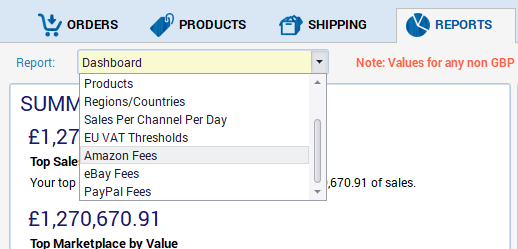 The Settlement Report screen shows information per settlement report. When you first start downloading fees, Tradebox will always retrieve the last 6 available settlement reports from Amazon.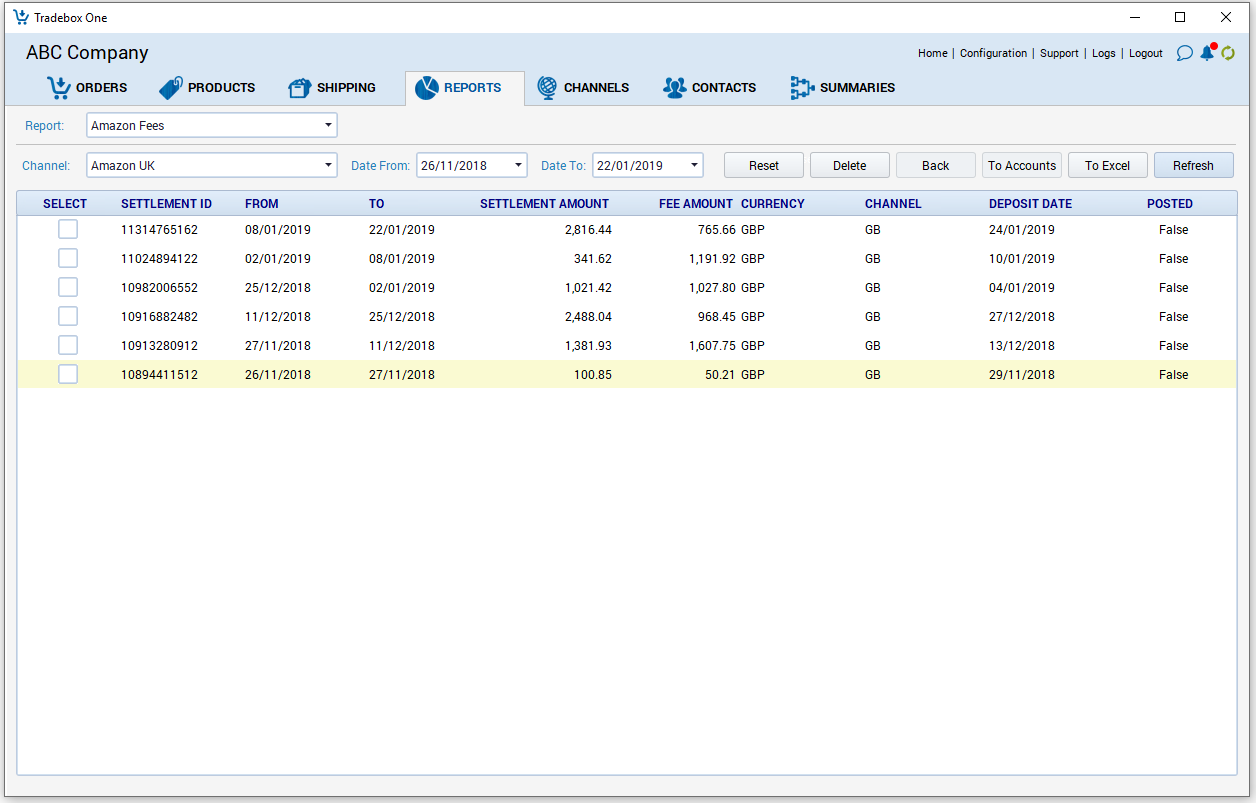 This screen displays the Settlement ID, which is the unique number that Amazon give to each settlement report, and the from and to dates which show the period covered by the settlement report. It also displays the total value of the settlement amount and how much you paid in fees over that period. You'll also see the currency of the fees and which regional marketplace they came through. Deposit Date shows the date Amazon deposited the funds with you. The final column Posted shows whether these fees have been posted to your accounts package or not. You can export this screen to Excel by clicking the To Excel button, but you'll need to drill one level deeper into a report to post the fee transactions to your accounts package.
Double-click a settlement report to drill down.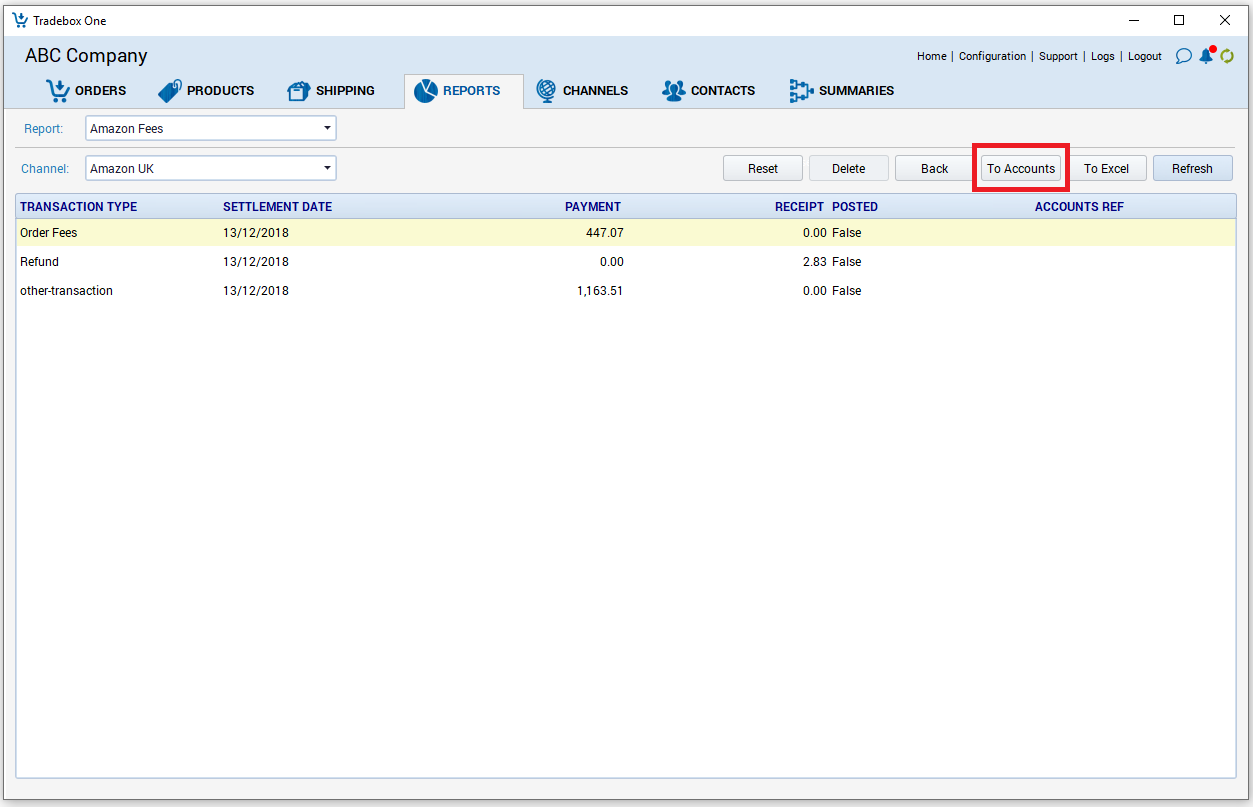 We're now in the Transaction Type screen. Tradebox deals with Order Fees, the fees associated with individual orders; Refunds, which are refunded fees (refunding an order itself is something you'll process separately within Tradebox) and 'other transactions', which may include reimbursements, or credits and debits for monthly costs. LINK to refunds and returns.
At this level, the To Accounts button will become active if you've got an accounts link set up within the Amazon channel you're viewing fees for. Click To Accounts and all the transactions within this settlement will post to your accounts package in one go. The Accounts Ref column will populate with the Sage transaction numbers or Xero transaction reference (the Settlement ID is used as the reference) that were used.
From the transaction type view, you can double click on any entry to drill down into the itemised report. At this view, the To Accounts button will become inactive again. Click Back at any stage to return to the previous level of detail.