Tradebox can download fees for Amazon and eBay channels and post those into your accounts packages. Tradebox will only ever post a fee to your accounts once, but there are some situations where you may need to force fees to be posted a second time, for example if you've restored an earlier backup into your accounts package.
Fees can be accessed via the Reports tab of Tradebox. Depending on which kind of fees you're looking at, you'd choose Amazon Fees, eBay Fees, or Paypal Fees from the drop down list.
How to Tell if Fees are Posted or Unposted?
There are two ways to tell whether fees have been posted or not. When viewing the summary of a particular fee period (for Amazon this would be a two week settlement period, for eBay and Paypal it's monthly), you'll see a column called Posted. Where fees have been posted to your accounts, this will show True and it will show False where they haven't, as shown below.

If you are using Sage 50, you can also tell if a fee has been posted by looking at the Accounts Ref column. For eBay fees, this appears on the same page as the Posted column, whereas for both Amazon and Paypal fees, you need to double click on a summary to view it.

The Accounts Ref column tracks the reference with which these transactions have been posted to Sage. For Xero users, a reference is not required, however, Accounts Ref will display the Settlement ID for Amazon fees. The Xero integration does not track a reference for eBay and Paypal fees.
Resetting Amazon Fees
Amazon fees are downloaded from Amazon's settlement reports, which are produced every two weeks. When resetting fees, you can only reset the entire settlement report, not individual fees. There are two places in the program where this can be done. Within Reports > Amazon Fees, simply tick the settlement report you wish to reset, and then select the grey Reset button across the top.
The second place you can reset fees is in the Configuration screen of the software. The Reset Fee Postings option will allow you to enter the settlement ID that you want to reset and this will be done automatically for you.
The selected fees can then be reposted from the Amazon Fees screen within Reports.
Resetting eBay and Paypal Fees
eBay and Paypal fees can both be reset from within the Reports > eBay/Paypal Fees screen. For eBay fees, a tick box appears against each monthly fee. For Paypal fees, you must double click on a particular month to be able to select and reset the fees. You can do this individually, or use the Select All button to do an entire month at once.
Both eBay and Paypal fees can also be reset using the Reset Fee Postings option on the Configuration screen. When you click on that option, it will present you with the following box: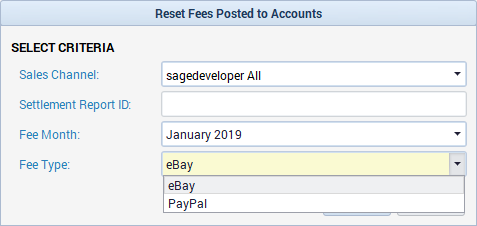 Select your eBay channel, and the month you want to reset sales for. (Settlement Report ID only applies to Amazon channels and will be greyed out.) You can then choose whether you want to reset eBay or Paypal fees for that month. When you click ok, the selected fees will be automatically reset.
They are then available to repost from within either the eBay Fees or Paypal Fees screen within Reports.