Tradebox can deal with VAT differently per channel, depending on your requirements. First, you should make sure all the correct tax rates have been set up within the program in the Configuration > Tax Rates section. By default, there are five generic tax rates, as well as a tax rate per country for all countries within the EU, but these can be added to or amended depending on your needs. The five generic tax rates are:
Zero Rated (0%)
Standard Rated (20%)
EU B2B Sales (0%)
Non Vatable (0%)
Reduced Rate (5%)
Once you have all of the relevant tax codes set up, to allocate those within a channel you would double click on the channel in the list and select the VAT tab. The tax codes set here are defaults per region, and can be overwritten by other factors such as product tax code or country tax code.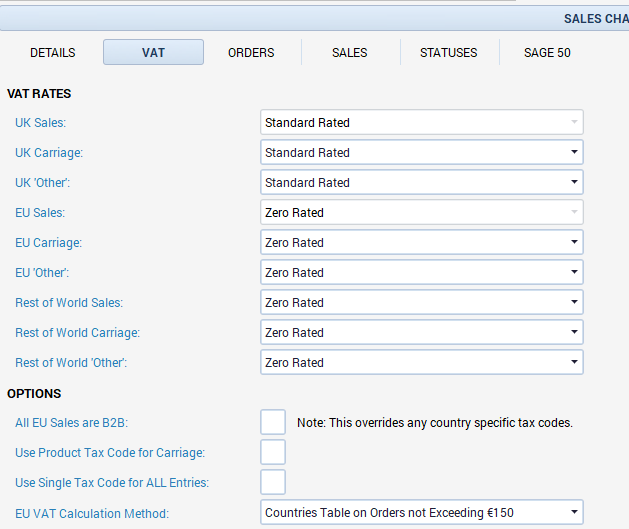 Tax codes in the channel VAT table relate to income from:
And are split into sales from:
UK
EU
Rest of World (ROW)
Default Tax code settings are dependent upon whether the company is VAT registered or not, which is covered during the setup of the software. For VAT registered businesses the default tax codes are:
UK = Standard Rated
EU = Zero Rated
Rest of World (ROW) = Zero Rated
For businesses that are not VAT registered the default settings are:
UK = Non Vatable
EU = Non Vatable
Rest of World (ROW) = Non Vatable
Use Product Tax For Carriage is used if you are selling goods with a mixture of tax codes and you want the carriage to reflect the product tax. With this setting turned on, if all of the products on an order are non-vatable, then no VAT will be applied to the carriage. If any product on the order is standard rated then the carriage will also be standard rated, even if the majority of the products are non-vatable.
Use Single Tax Code for All Entries allows you to set a specific tax code for all entries that go through this channel. This overrides any other rules.
EU VAT Calculation Method is a setting that overrides the default settings and allows you to choose how VAT on EU sales will be handled with regards to IOSS, which came into effect on 01/07/2021. The three options are:
1. Zero Rated VAT EU Orders: For use if you wish all EU orders to be treated as zero rated, the same as your ROW sales.
2. Countries Table on Orders Not Exceeding €150: To be used where you are liable for VAT on EU orders up to a value of €150. This will instruct Tradebox to check the tax rates you have applied against each EU country in Configuration > Countries within Tradebox. This will be determined based on the country the order is being shipped to.
3. Countries Table Regardless of Value: This is used if you are liable for VAT on all EU orders, regardless of their value.
If you are VAT registered in any countries other than the UK or for IOSS, you may need to apply a tax rate at the country level. Please click here for our guide on country specific VAT.
If you have integrated Tradebox with an accounts package, your Tradebox tax codes will need to be mapped to the relevant tax codes in your accounts package. This would be done by opening the channel, selecting Sage 50 or Xero > Tax Rates.