Tradebox can deal with VAT differently per channel, depending on your requirements. First, you should make sure all the correct tax rates have been set up within the program in the Configuration > Tax Rates section. There are five available by default, but they can be amended or added to within the Tax Rates table if they don't cover your specific needs. The five default tax rates are:
Zero Rated (0%)
Standard Rated (20%)
EU B2B Sales (0%)
Non Vatable (0%)
Reduced Rate (5%)
Once you have all of the relevant tax codes set up, to allocate those within a channel you would double click on the channel in the list and select the VAT tab. The tax codes set here are defaults per region, and can be overwritten by other factors such as product tax code or country tax code.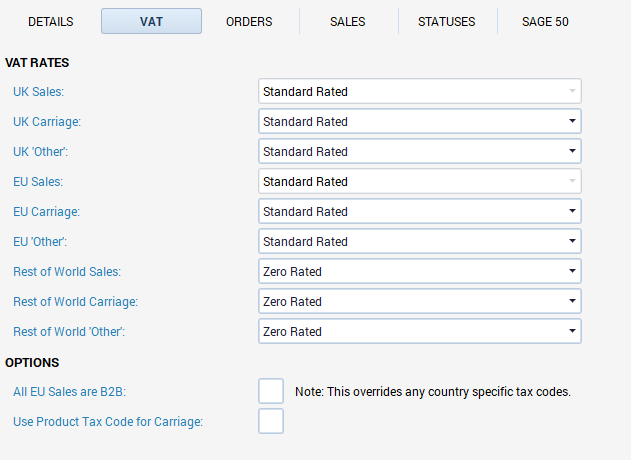 Tax codes in the channel VAT table relate to income from:
And are split into sales from:
UK
EU
Rest of World (ROW)
Default Tax code settings are dependent upon whether the company is VAT registered or not, which is covered during the setup of the software. For VAT registered businesses the default tax codes are:
UK = Standard Rated
EU = Standard Rated
Rest of World (ROW) = Zero Rated
For businesses that are not VAT registered the default settings are:
UK = Non Vatable
EU = Non Vatable
Rest of World (ROW) = Non Vatable
For VAT registered businesses who installed and set up Tradebox prior to 20/01/2021, Tradebox assumes that EU sales will be conducted with consumers rather than businesses and allocate EU sales to a Standard Rated tax code. However, if you wish to zero rate your sales then you have the option to tick All EU Sales are B2B which will apply a zero rated tax code.
For users who set Tradebox up after 20/01/2021, all EU sales, regardless of whether they are business or consumer, will be treated as zero rated by default. Please contact support@tradebox.uk.com for further information.
Use Product Tax For Carriage is used if you are selling goods with a mixture of tax codes and you want the carriage to reflect the product tax. With this setting turned on, if all of the products on an order are non-vatable, then no VAT will be applied to the carriage. If any product on the order is standard rated then the carriage will also be standard rated, even if the majority of the products are non-vatable.
If you have integrated Tradebox with an accounts package, your Tradebox tax codes will need to be mapped to the relevant tax codes in your accounts package. This would be done by opening the channel, selecting Sage 50 or Xero > Tax Rates.