When Tradebox downloads orders from Amazon, it stores the date and time of its last download and only checks back to that point in time to see if any orders have been placed or updated since then. This is designed to cut down on the time it takes to download orders from Amazon.
However, there are some circumstances in which you may want Tradebox to go back and check over a period that it has already downloaded, for example you've deleted some orders and need to download them again, or you think there are some orders missing. In these circumstances, you can choose the option to Reset Amazon Last Sync Start.
This option can be found by going to Channels in Tradebox and right clicking on the Amazon channel: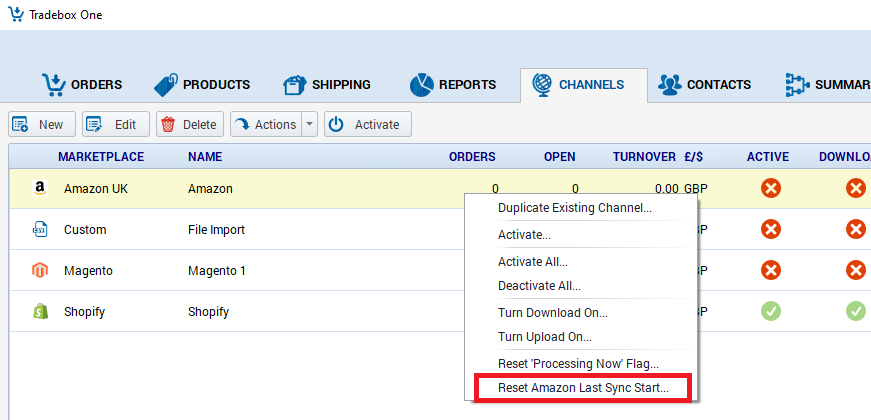 Before selecting this channel, you should make sure that the Amazon channel is not in the process of running a download (the easiest way to check this is to double click on the channel - if you are able to open it, a download is not running). If it is, wait for the download to finish or close and restart Tradebox prior to resetting the last sync start date.
Once you have done this, on the next download, Tradebox will refer to the Days to Download setting within the Amazon channel, instead of only looking back as far as the previous download. So, if you have the days to download option set to the maximum of 60 days, Tradebox will check that entire period for any orders it does not already have in the system. Only orders that have not already been downloaded will come through, this will not result in duplication of any orders.