Tradebox can be configured to generate a report which shows the cumulative net sales totals from a specified EU country within the current Calendar year. This report also shows the EU Distance Selling Threshold and what percentage of this threshold has been achieved:

The report is available within the Reports module from the drop down list. However, this is only generated if a VAT threshold has been entered against the required country in the Countries table. To access this go to Configuration > Countries and double click on the country/countries you wish to include in the report. Then simply enter the appropriate value for the specified country in the VAT threshold field and click Save.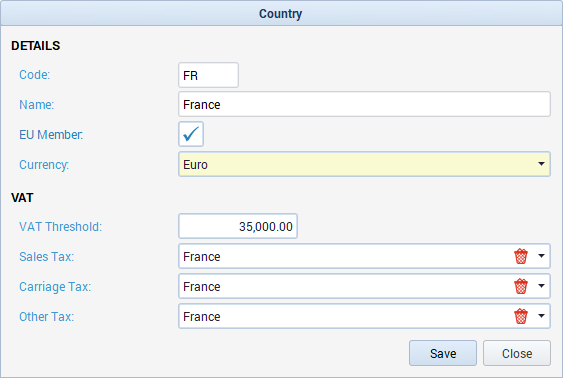 By default, the Sales, Carriage and Other Tax treatments for any given country will be taken from your UK, EU, or Rest of World default settings. However, if you are or become VAT registered in any foreign country, you can set up new tax codes for that country specifically, as has been done in the above example with France. See our full guide to tax rates in Tradebox for more information.