One reason that an order might end up in a status of query is that there's a payment mapping issue. This occurs when you have Tradebox set up to post receipts to Sage, and it encounters a new payment method. Tradebox needs to be told which Sage bank account you want receipts to be posted into for that payment method.
A payment mapping issue will show the following message within the order itself:

It will also show a message in the issues log, in both Order Issues and Synchronisation issues:
There are two ways to resolve this. First of all, on the Issues log, you can select the Payment Mapping Issues button shown above. This will pop up a box, and you'll need to select the channel that the query orders have downloaded through.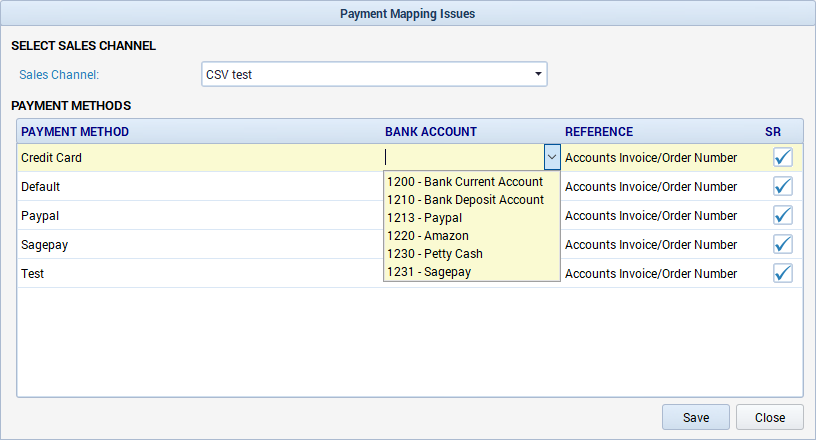 The bank account against at least one of your payment methods will appear blank. A bank account should be set against all payment methods to allow Tradebox to allocate receipts correctly for every order. Simply clicking into the Bank Account column will give you a drop down list of all your available Sage bank accounts. Select the relevant bank for each payment method where it is missing, and then click Save. If there are any payment methods which you don't wish Tradebox to post payments for, untick the SR box and no payments will be posted for that method.
Bank accounts can also be amended at any time by going into the channel from the Channels list, and then selecting Sage 50 > Receipts.
Once a bank account has been set, the orders will automatically post through to Sage on the next attempt.
Note: If you're using the option to manually post to Sage, orders that have this issue will not automatically come out of query status, you will need to click the Post to Sage 50 button in the Orders screen to resolve the issue and post the order to Sage.