If you are creating individual customer accounts in Sage, you might have set Tradebox up to use the Manually Match/Create Sage Customer option. This is found in the Sage 50 > Customers section of each individual channel, and is generally used if you want full control of the customer accounts that Tradebox posts to and whether it uses an existing account or creates a new one. This requires you to manually validate each new customer that Tradebox encounters. Once a customer has been validated, Tradebox will retain that information going forward to you don't have to validate the same customer more than once.
Within each order that needs validation, you'll see this message:

You'll also see the following messages in the Tradebox Issues log, in both Order Issues and Synchronisation Issues:
To resolve the query, you must go to your Issues log, which you can access by clicking on the Logs link in the top right hand corner of the software, and then selecting the Issues tab. Once you're there, click the grey Customer Validation button to get the following screen: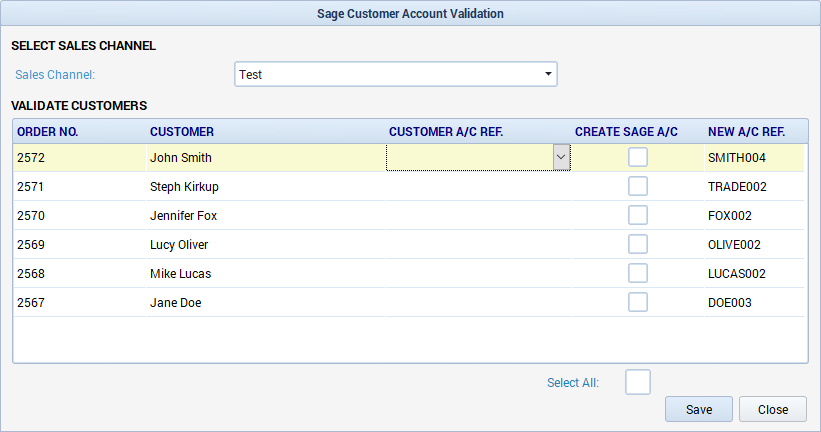 You'll see the list of customer names that are waiting to be validated. If the customer already has an account in Sage, you can click into the blank Customer A/C Ref column, which will give you a drop down list of all your existing Sage customer accounts to choose from. If the customer does not already exist, in the New A/C Ref column you can see the reference Tradebox has automatically generated for that buyer. This is based on the Account Reference Generation options you've chosen within the Sage 50 > Customers section for this channel. To instruct Tradebox to create a new account with that reference, tick the Create Sage A/C box for that buyer.
Once you've chosen the correct accounts for your buyers, or instructed Tradebox to create new ones, click Save. Once that's been done, the orders will then automatically post to Sage on the next posting attempt.
Note: If you're using the option to manually post to Sage, orders that have this issue will not automatically come out of query status, you will need to click the Post to Sage 50 button in the Orders screen to resolve the issue and post the order to Sage.