This article gives steps to relocate Tradebox from one PC to another. If you are intending to install Tradebox on more than one machine, please see our Networking Tradebox One article for guidance.
If you are integrating with Sage accounts, please make sure that Sage is installed on the PC you are moving Tradebox to, is linked to the correct Sage dataset, and that third party integration has been enabled before you relocate Tradebox.
1. On the original PC, open Tradebox up and go to Configuration > Data Service. At the bottom of this page there is a tick box that says 'Run on this Machine'. This links the Tradebox Data Service to the specific machine it is running on. Untick this box and save.
2. In Configuration, choose Backup Database, and backup Tradebox to a location that can be accessed from the new PC, whether this is a network location, or a USB stick.
3. Once the backup is complete, close Tradebox One down entirely, including the Tradebox Data Service and the Tradebox Application service, which can be accessed through Windows Task Manager. If Tradebox One is subsequently run on the old machine, this can cause duplication in your accounts package, so we recommend fully uninstalling it through your Control Panel.
4. On the new PC, install Tradebox following these instructions.
5. Once Tradebox launches, it will give you some options: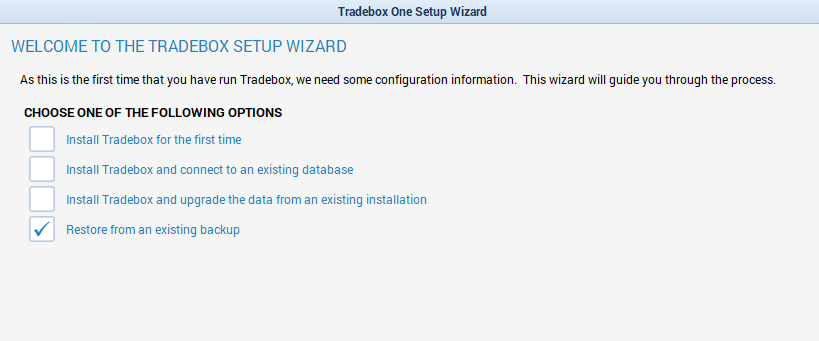 Choose the option to 'Restore from an Existing Backup'. Navigate to and select the backup file you took on the original PC, and click OK.
6. Once the database has been restored, you will need to restart Tradebox. At this point you should see the following prompt:

Click Yes to start running the Tradebox Data Service on the new PC. Tradebox should start downloading again within moments.
7. If you are using any Custom type channels that import a CSV file, you should ensure that Tradebox can still access your input and output folders. To check where Tradebox is looking for these folders, go to the Channels section and double click on the channel, then select the Import File tab. The folder locations are displayed under the Folder Details heading:

If the location is somewhere that still exists on the new PC - for example, all PCs with Tradebox installed will have C:\Program Data\Tradebox One, then clicking the

will recreate it. Otherwise, you can create the folders anywhere on your PC and use the

icon to navigate to them.
8. If you are connecting to Sage, the final step is to make sure that Tradebox can still access your accounts, as the data path may be different on the new PC. To do this, go into any sales channel and select Sage 50. On the Connection screen, make sure the correct company is selected and that the data path is correct. (In Sage, you can check this in Help -> About by looking at the Data Directory.) If not, you can refresh it by selecting a different company, or Practice or Demo Data, and then selecting the original company again. If your channels all post to the same set of Sage data, select the option to Apply these Connection Details to All Sales Channels with an Accounts Link. If not, you'll need to go through this process with each channel individually. Once each sales channel shows 'Connected', in the Connection screen, you can operate Tradebox One as normal from there.