Occasionally, an EKM order can end up in query, giving the reason 'Order total from EKM does not match Tradebox order total', which appears within the query order as shown below:

An order with this query signifies that there's a discrepancy between the total order value as EKM is calculating it, and how Tradebox is calculating it. This could be caused by an incorrect setting in Tradebox, or be due to exchange rate differences or rounding errors.
To resolve the issue and get the order to come out of query, find the order in the list and then double click on it to open it. Select the Details tab, and you'll see the Order Details section: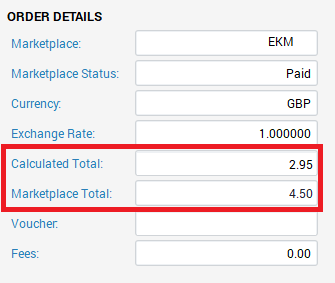 The Calculated Total and the Marketplace Total are the fields you're interested in. As you can see in the above example, these values don't match and that's what's causing the query. Tradebox is calculating the order total as £2.95 based on the item lines provided, whereas EKM is saying the total should be £4.50. To resolve the query, simply edit the Marketplace Total field so that it matches the calculated total. The order will then automatically come out of query.
If you find you are getting these queries regularly, or you're not sure of the reason why the calculated total and marketplace total would be different, please contact Tradebox Support to investigate.