This article describes downloading product information from your sales channels to create product records in Tradebox. For instructions on downloading product IDs from your sales channels to add to existing product records, see here.
This article is only applicable to users who have Tradebox set as their stock control method. If you're using Accounts Software stock control, please see the guides on importing product records from Sage or Xero.
Tradebox can download inventory directly from the following channel types:
Magento
Shopify
Bigcommerce (API)
eBay
Woocommerce
Products can also be download from EKM via a CSV file, which is a slightly different process, described here.
To begin importing from your sales channels, go to the Products section in Tradebox and click on the Actions menu, then select Import Products.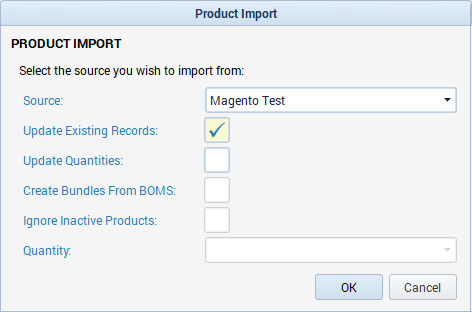 Select the channel you want to import from as the Source. If you already have product records set up in Tradebox and want to update them, select Update Existing Records. Update Quantities will then become available, which you can select if you want Tradebox to update its own stock levels with those held on your site.
The rest of the options here are only applicable if you're using Accounts Software stock control, so aren't available to select. Click OK.
The download process may take some time, depending on the number of products you have on your sites.
Note for Woocommerce users: The Woocommerce API may hand control back to Tradebox before the product import has completed. This means you can use the program while the download is still taking place, but it's not as obvious when it's completed. Ensure the number of products in Tradebox is correct before closing the software down as this would interrupt the download.
Product Mapping and Uploading Stock Levels
When Tradebox downloads products from your channels, it will create a product mapping record for each SKU. These will be an exact match to the product records in Tradebox, so for the basic function of downloading orders, you won't need to import any product mappings. However, product mapping also covers quantity multipliers, fixed quantity uploads, max quantity uploads and whether any products are excluded from upload, so you may still need to import it if you want to use these features. This is covered in more detail in our Product Mapping guide. If you're using Tradebox to upload stock levels, then as well as product mapping, there are a number of other steps you will need to go through to set up stock uploads, all of which are covered in our detailed guide.